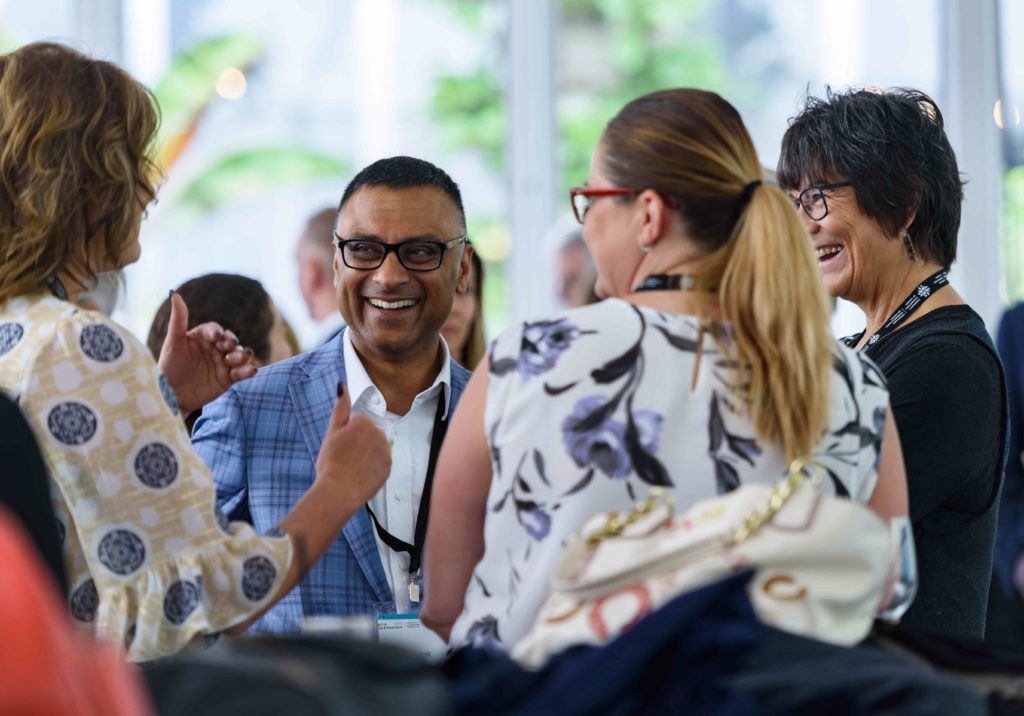 (June 17, 2020) Andrew Chunilall became CEO at Community Foundations Canada in 2017, one of a very few people of colour at the leadership table in the philanthropy sector, takes on the subject of racism in philanthropy. 
Yesterday, he released a significant statement on what it's like to lead an organization as a person of colour.
Chunilall details in his statement that in 2017, the year he joined Foundations Canada (CFC), the association hosted a conference called Belonging 2017 during which he moderated a panel that included author Desmond Cole, Senator Ratna Omidvar and current President of the Inuit Tapiriit Kanatami (ITK) Natan Obed. Chunilall said in his statement the panel became "the most provocative and disruptive of that conference."
"One speaker in particular, Desmond Cole, was said to have caused many to feel particularly uncomfortable with a few going so far as to question our creating the space for his perspectives on institutional and systemic racism in Canada," says Chunilall. Desmond Cole has written extensively and unsparingly about racial profiling and other injustices faced by Black Canadians. The feedback was exclusively from white people who felt it especially inappropriate during the celebrations of Canada's 150th year as a country, Chunilall added.
At the same time, Chunilall says other conversations urged him, as the new CEO, to refrain from embracing "activism" by taking on issues of social justice, human rights, and inequality.
"These types of topics, I was told, may upset donors or inhibit our ability to attract new endowments," Chunilall says.
Today, he blames himself, saying his lack of fortitude prevented him from taking on the racism in philanthropy, part of an establishment that he was a part of. "At the conclusion of Belong 2017, the majority of our movement had no response for Desmond Cole's call to action except one of minimization, deflection and criticism."
So, where are we now, where do we stand in the world of charity and philanthropy since Belong 2017?
People are on the streets are demanding civil rights be taken seriously, marching for change in the structures promoting racism in the workplace, the economy and the criminal justice system. Leaders, such as Andrew Chunilall are bringing their personal stories of racism in philanthropy to the table. 
The reckoning is here. But there's a couple of things to know in the charity and philanthropy sector as we move forward.
As Chunilall says, philanthropy leadership is almost entirely white.
In an upcoming report, the The Charity Report will provide data on structural racism in philanthropy could be exacerbated by the fact the members of the boards of Canada's largest 20 private foundations (combined assets valued at 32 billion) are almost homogenously white, with 13 of the 20 under the control of family members only. When it comes to community foundations, of the 78 board members of the top 5 community foundations in Canada, which operate in Vancouver, Victoria, Winnipeg, Toronto and Montreal, Canada's most diverse cities, five board members are Black, five board members are Indigenous and 10 board members are people of colour. The combined assets of the five foundations are valued at $3 billion.
A U.S. study published in the Stanford Social Innovation Review (SSIR) in early May suggested the reasons behind racism in philanthropy when it reported that 92% of foundation presidents in the U.S. are white, 83% of full time executive staff are white and 68% of program staff are white. 
Charity leadership is almost exclusively white.
A 2018 study, The State of Diversity in Nonprofit and Foundation Leadership, found that "87% of all executive directors or presidents were white."
The study published in the SSIR also concluded that "nonprofit organizations led by people of color receive less money than those led by whites" and that "the unrestricted net assets of black-led organizations are 76% smaller than their white-led counterparts." More stringent vetting procedures were reported by those executives of colour with funders often citing "lack of sufficient evidence or capacity to execute."
Furthermore, 75% of white people have entirely white social networks.
"We can no longer follow the established norms of donor primacy, over emphasis on endowment growth or comforting our Board of Directors as an excuse for the status quo," says Chunilall. "We must step into the space of understanding who we are and how we are perpetuating racism in Canada through our own actions and behaviours."
American journalist and historian, Anne Applebaum, had article in the Atlantic this weekend called History will Judge the Complicit. It's ostensibly about the Republicans who have enabled Donald Trump but looks at the dynamics of collaboration more broadly. She quotes Czesław Miłosz, a Nobel Prize–winning Polish poet, who wrote extensively about collaboration. He was part of the resistance during World War II but ended up serving his country's Communist government as a cultural attaché at the Polish embassy in Washington. He'd experienced both sides and knew how it felt.
Miłosz, Applebaum writes, was a rarity in that he acknowledged "the pleasure of conformity, the lightness of heart that it grants, the way that it solves so many personal and professional dilemmas."
Perhaps we've revelled in the pleasure of conformity, including the systemically racist policies of our tired society, for too long.
As Chunilall concluded, "before we make any public leadership claim about racial tolerance or embracing diversity, we must first look in the mirror and ask those questions of ourselves, our board members, our donors and our leaders."
Related
Edgar Villanueva: 'the rainy day we've all been thinking about is here'