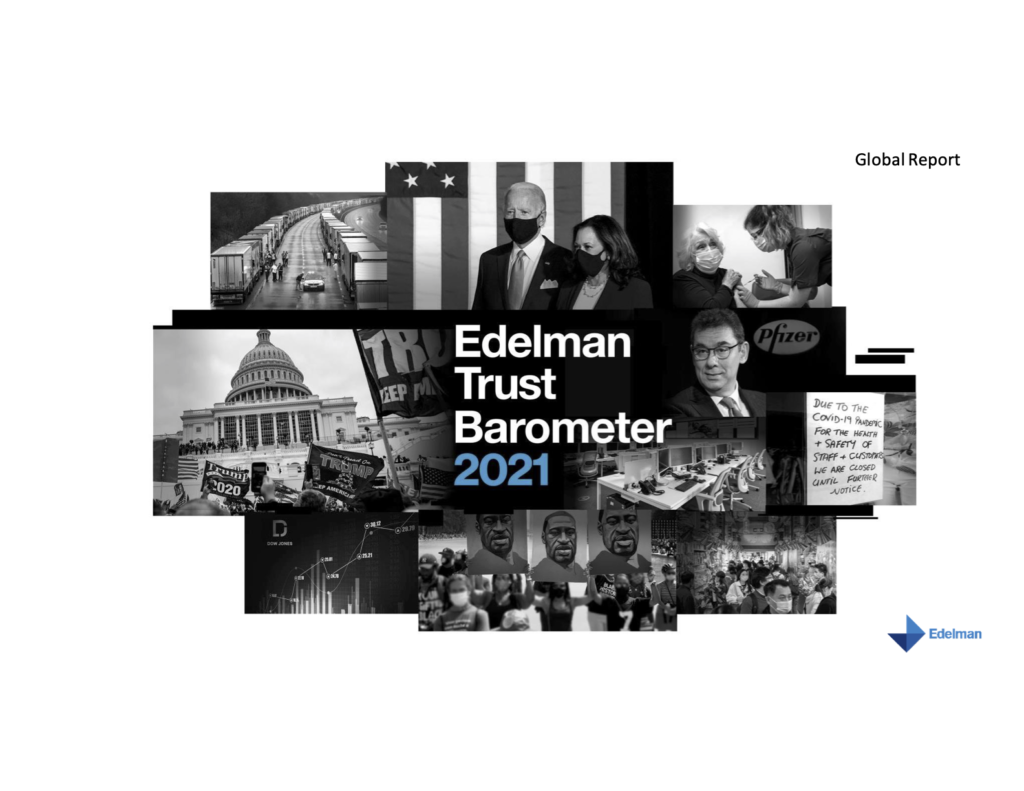 (January 29, 2021) Unprecedented disaster and turbulence, the global pandemic, economic crisis and the global outcry over racism has contributed to an environment of information bankruptcy where trust in the institutions of society—business, NGOs, media and government—has decreased throughout the world, according to Edelman PR's 21st Trust Barometer Report, a study that consisted of 30-minute online interviews with 33,000 across 28 countries conducted between October 19 and November 29, 2020.
"Business has emerged as the last institution standing, the only one rated as both competent and ethical" compared to NGOs which are seen as ethical but incompetent, and government and media which were viewed by respondents as both unethical and incompetent.
Of the 27 countries reporting, trust in NGOs decreased in 11 of them. NGOs (non-governmental organizations) include nonprofit organizations and charities including the US and the UK. Canadians trust did not decrease, but they still do not trust NGOs.
In the UK, "public trust in charities declined to an all-time low in 2016/2017 after the Olive Cooke affair," says Ken Burnett, UK-based lecturer and consultant on fundraising, marketing and communications for nonprofit organisations worldwide, and author of the classic fundraising book Relationship Fundraising.
Olive Cooke was a 92-year old woman who took her own life and a friend suggested it was because of the number of fundraising appeals she was receiving. SOFII.org reported that Cooke made automatic monthly donations to more than 20 charities. Then, when she cancelled them, the charities made so many phone calls and sent so many letters to her, she felt "tormented" and "guilty." The British tabloids had a field day critiquing the fundraising methods of many charities.
But declining trust in charities doesn't appear to be a country specific problem.
As The Charity Report wrote in September 2020, Canadians' trust in charities and the not-for-profit sector fell 6% according to a CanTrust Index released on September 8, 2020 by Proof Strategies. Proof Strategies surveyed 1,000 Canadians between September 3 and 5 for the CanTrust Index COVID-19 Impact Update.
At the time, the controversy about The WE charity was blamed for the dip.
"When the pandemic first hit, we saw a spike in trust in charities as they mounted a response to help people in need," says Bruce MacLellan, President & CEO of Proof Inc. "Now, only four months later that spike is gone and the main charitable narrative in that time has been the ongoing WE story in Ottawa. It seems too much to be a coincidence."
"In my view, public trust in charities will not erode if the charitable sector demonstrates responsible and transparent governance practice," said Hilary Pearson, former CEO of Philanthropic Foundations Canada.
"Trust in the non-profit and charity sector is not static," says Toronto-based charity lawyer, Mark Blumberg. "Actions can be taken to improve the public's understanding of the voluntary sector, increase transparency and accountability and trust."
But the issue of trust appears to run deep. And without trusted institutions a society is deeply impacted because people don't know where to turn for truthful information.
The 2021 Edelman Trust Barometer says the 2021 survey results reveals an "epidemic of misinformation and widespread mistrust of societal institutions and leaders around the world. Adding to this is a failing trust ecosystem unable to confront the rampant infodemic, leaving the four institutions—business, government, NGOs and media—in an environment of information bankruptcy and a mandate to rebuild trust and clarify a new path forward." 
"When public leaders like Donald Trump and Boris Johnston continually get away with blatant and persistent lies and get away with impunity from pursuing a policy of deliberate falsehoods, of course this infects all public institutions and charities are not exempt from it," says Burnett.
The Edelman report says the COVID-pandemic has exacerbated the trend. "As a result of this daily diet of distortions and counter factual narrative, we no longer believe our leaders. Fifty seven percent of respondents say government and business leaders purposely try to mislead us—government through fallacious commentary and business through silence implying consent," says Richard Edelman.
The tone of the report is an urgent one.
"Trust remains the most important currency in lasting relationships between the four institutions studied and their various stakeholders. Particularly in times of turbulence and volatility, trust is what hold society together and where growth rebuilds and rebounds. Every institution must play its part in restoring society and emerging from information bankruptcy," it says, making four recommendations.
Related
How are Canadians are doing? September 28, 2020
Canadian's trust in charities has dropped 6% since May September 9, 2020