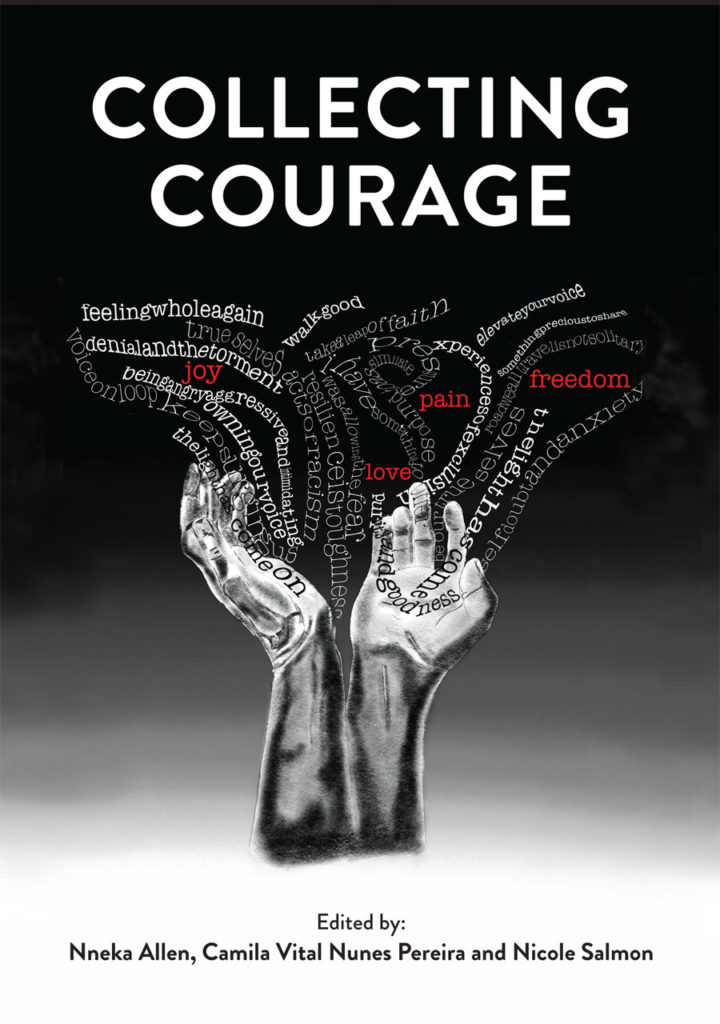 (April 15, 2021) The illustration on the cover of the book Collecting Courage: Joy, Pain, Freedom, Love — an open, urgent call-to-action to end racism in the charitable sector — depicts a pair of hands that are stretched out, palms facing up and open. 
These hands represent 15 successful Black fundraisers who, with compelling courage, share their experience of surviving racism in the charitable sector. Edited by Nneka Allen, Camila Pereira and Nicole Salmon, and published Gail K. Picco Books, an imprint of Civil Sector Press, Collecting Courage: Joy, Pain, Freedom, Love is a gripping and powerful compilation.
As a young, South Asian, Canadian American, LGBTQ2IA+ fundraiser, Collecting Courage is a powerful reminder and testimony to me that Black, Brown, and 'other' voices have been, and continue to be, oppressed and excluded. Whether on a micro, macro, conscious or unconscious level, the reality for fundraisers is simple: the gates of equitable opportunity, pay, and promotion is sanctioned, governed, and held in a powerful, predominately white philanthropic world.
The book's 203 pages and fourteen chapters are divided into four sections entitled, Joy, Pain, Freedom and Love. Allen, Pereira and Salmon expertly highlight the experiences of Black fundraisers from Canada and the U.S who each candidly reveal the truth on power, privilege, and racism within philanthropy.
Two themes emerge from Collecting Courage. Firstly, racism towards Black fundraisers is historic and continues to this day, penetrating, poisoning, and polluting the charitable sector. Secondly, that by sharing the narrative of fundraisers who are Black and have experienced that racism can come unity, joy, freedom and love.
In the book's introduction, Nneka Allen contextualizes the history and science of colonization in Canada and the US, the rise of cultural superiority of the Europeans, and the development of slavery. By demystifying the history and culture of North America, Allen provides the foundation and framework to contextualize the Black and Brown professional and personal fundraising experience.
As the book progresses, Birgit Smith Burton, Christal M. Cherry, Krishana Palmer, Heba Mahmoud, Mide Akerewusi, Naimah Bilal, Nicole E. Cozier, Niambi Martin-John, Fatou Jammeh, Muthoni Kariuki, Sherrie James, and Marva Wisdom provide distinctively unique, emotional, poignant stories that intimately outline their experiences with anti-Black racism. Woven between each experience are similar commonalities: being more often than not, the only Black fundraiser in a predominantly white profession, the transferring of emotional and mental pain to physical pain, the pain to assimilate in order to follow the 'white code', and the joy, freedom and love of saying no, taking credit, being loud, being proud, knowing your worth, and simply letting go.
As a South Asian, Canadian American, LGBTQ2IA+ fundraiser, this book provided me hope. It made me cry, laugh, scream and cheer as I read every powerful word from these 15 remarkable fundraisers. Allen poignantly ends the fourth section of this book entitled Love,
"Our historical context gives us a unique capacity to wade in the deep waters of tragedy, opposition and change. We bring this inherent power into our organizations and charitable sector. Do not let the fear of continued exclusion and humiliation stop you from stepping out and raising your voice. What we possess is rare, and the charitable sector needs us."
The charitable sector desperately needs Collecting Courage: Joy, Pain, Freedom, Love, a book that all fundraising professionals should take the responsibility and requirement to read, watch, listen, and learn from.
Born in Ithaca, New York and having grown up in Ontario, Rubin Kataki currently works at the University of Waterloo and is enrolled in Master of Philanthropy & Nonprofit Leadership at Carleton University.
Related Reading
Collecting Courage: A Powerful Truth On Black Love, Freedom and Philanthropy November 24, 2020