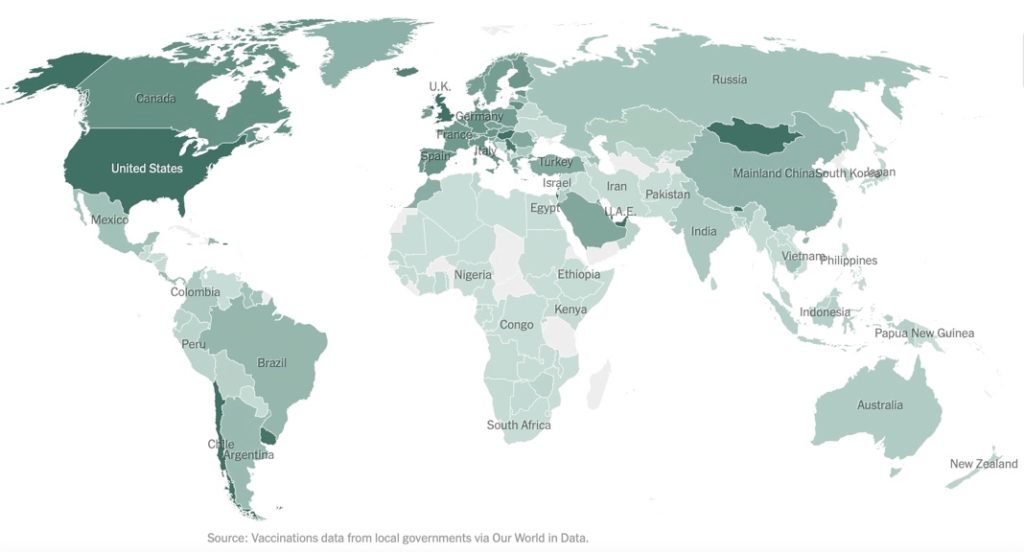 (May 10, 2021) "There is already a stark gap worldwide between vaccination programs in different countries, with some yet to report a single dose," according to the New York Times.  "More than 1.3 billion vaccine doses have been administered worldwide, equal to 17 doses for every 100 people."
But vaccine averages belie the inequity of distribution with wealthier countries buying, storing and distributing vaccine does according to their country's priorities.
The U.K. and the U.S. are two of the largest industrialized countries to have vaccinate the highest proportion of their population with the U.K. have distributed 79 doses per person and the U.S. 78 doses per person. A vaccinated person refers to someone who has received at least one dose of a vaccine, and a fully vaccinated person has received all required doses of a vaccine. For the Astra-Zeneca vaccine, a person who is "fully vaccinated" has received two doses.
Less wealthy countries are relying on a vaccine-sharing arrangement called Covax, which aims to provide two billion doses by the end of the year," reports the Times. "Eighty-three percent of shots that have gone into arms worldwide have been administered in high- and upper-middle-income countries. Only 0.3 percent of doses have been administered in low-income countries."
According to the BBC, more than 49 million vaccine doses have been delivered through Covax so far. But a further $45 billion is needed over the course of next year to ensure most adults received the vaccine according to the Director-General of the World Health Organization (WHO) Tedros Adhanom Ghebreyesus.
Covax is co-led by the WHO, the Global Vaccine Alliance (Gavi) and the Coalition for Epidemic Preparedness Innovations (Cepi), with the UN children's fund, Unicef, as key implementation partner.
The New York Times is keeping tabs on how countries are faring with an interactive tracker. 
The data is compiled from government sources by the Our World in Data project project at the University of Oxford. 
Related reading
COVID 19: Ontario's disastrous third wave April 16, 2021
Raising Money during COVID: Funders in a Dangerous Time October 20, 2020