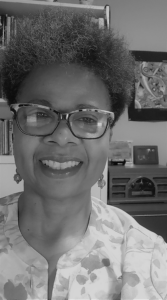 (July 28, 2021) The Charity Report announced today that Nicole Salmon will be coming on board as contributing editor effective immediately.
"I have known Nicole since her days at Oxfam Canada, and I've most recently had the pleasure of working with her as she co-edited Collecting Courage, along with Nneka Allan and Camila Pereira," says Gail Picco, editor in chief of The Charity Report.
Salmon has spent more than twenty-five years working in the nonprofit sector managing a variety of fundraising portfolios in addition to Oxfam Canada. In 2014, she founded Boundless Philanthropy, a fundraising consultancy providing a range of fund development services, interim senior leadership, and leadership development.
As co-editor and contributing author of the book Collecting Courage: Joy, Pain, Freedom, Love, an anthology featuring 15 contributors and 14 first-person narratives from Black fundraisers from Canada and the United States, Salmon helped document their experiences and the impact of confronting racism within the charitable sector. She serves on the Boards of two nonprofit organizations, is a member of the Review Panel with The Charity Report Literary Circle and a member of the Black Canadian Fundraisers Collective.
Shaped by her Jamaican identity and deeply influenced by spending two thirds of her life in Canada, Salmon is a skilled communicator who embraces her natural curiosity and thirst for variety and new challenges. An avid reader, gardener, sports enthusiast and mentor, Nicole is anchored by family, committed to service, building connections, and deepening personal relationships.
"Nicole has a deep knowledge of the sector, on topics of leadership, international development and equity," Picco added, "but she's become very focused on her writing in the last couple of years, and we are the beneficiary of the totality of her experience."