By Gail Picco, September 13, 2021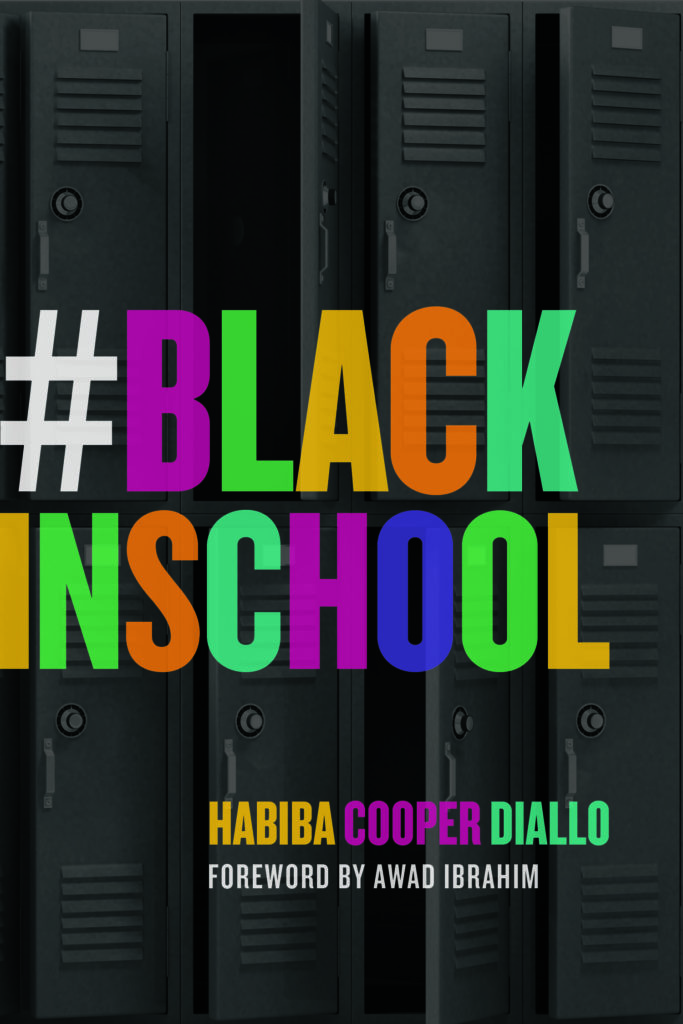 #BlackinSchool, Habiba Cooper Diallo, University of Regina Press, September 4, 2021, 122 pp., $20.95
Part of a journal Habiba Cooper Diallo kept when she attended high school in Halifax, Nova Scotia, #BlackinSchool establishes how ideas about the nature of Black people, specifically Black bodies, has been baked into the consciousness of children from a very early age, often from a school system we'd want to help erode racism as opposed to re-enforce it.
In the ninth grade, Diallo recalls,
"…walking down a hallway to attend a school newspaper meeting when I was struck by what I consider to be an extremely disturbing image of Black bodies on the wall. As part of an assignment, students had posted a photograph from the 1984 Ethiopian famine. The bodies depicted were naked, dark and gaunt, and shown to be crawling. I was horrified, humiliated, and indignant all at once. I quickly went to the school's administration to express my discontent with the photograph; it was removed from the wall the next day.
As the school continued to host fundraising drives, as many high schools do, Diallo had the experience repeated when an assembly was called to show the American film Kony 2012, part of a campaign to "have Joseph Kony, a warlord who had led the Lord's Resistance Army, an extremely violent militant movement known for its use of child soldiers in Uganda and central African states," wrote the Washington Post. The drive was to have Komy arrested by the end of 2012, when the campaign ended.
Although many celebrities supported the Komy 2012 initiative, the film sparked a heated controversy regarding its merits, with very differing opinions being expressed by NGO workers, governments, and journalists.
Nevertheless, the film was shown, including the videos of slaughtered Black bodies—decapitated and severed.
Diallo was appalled and, in #BlackinSchool, documents the impact on Black students,
"Every night on returning home from school, I turn to my diary—an outlet for the release of negative sentiments which lodge themselves in my body throughout the day—or I immerse myself in Reggae and Wassoulou dance as a way of recharging my spirit by connecting with one of the most intimate aspects of my personhood, my culture, something which is abrogated and denied me, as well as the masses of other Black students, in high school."
But the impact is on white students too. She explains "High school is hard enough on any young body … but there is a whole other layer of constant and, in some ways unseen, violence that is done to young Black bodies in high school that needs to be recognized, because Black students must also deal with the racial stresses involved in going to school," and, in #BlackinSchool, details her witnessing of the arrest of a fellow Black student, something so many of us can visualize now because, since Diallo wrote in her journal, we've seen so much cell phone footage capturing just such a moment.
"At my school, I recently witnessed the arrest of a Black student. Prior to the incident, two officers were interrogating him and his non-Black friend on school property. The latter was escorted back inside the school, while the former was kept outside for further interrogation. I continued to watch through the window. The officer soon began to search him, clearly unable to find anything worthy of arrest. She persisted nonetheless, and in doing so provoked him, for he became frantic, kicking off his shoes and waving his arms as he proclaimed his innocence. The officer was unrelenting. Within seconds, his chest was pressed against the side of the car, his back to me, and his hands cuffed. Adding insult to injury, a student adjacent to me, having also witnessed the arrest, remarked, "He knows the drill."
Personal testimony is a way in access complex and entrenched issues like racism. Diallo, now a 23-year-old, studying for a master's in public health, she was, in high school, an exceptionally focused student. Part of the elect international baccalaureate program (one of two Black students to participate), she started a nonprofit women's health organization as an extracurricular activity. She kept a journal and then, through a book, #BlackinSchool, decided that she wanted to provide her testimony as a potential way to change public policy, shopping her reflections to publishers until the University of Regina picked it up in 2018.
What of the students across the country and the continent who are just average? After reading #BlackinSchool, educators (and people who work in international NGOs) might decide to have a think about their approach and how it impacts the young people sitting in front of them every day—Black and white. To do so and not change their ways is a staunch defense of an untenable status quo.
"High school is not merely a slew of ideologies etched into textbooks. It is a deeply soulful experience, one that requires the Black student to continually self-reflect on who she is and where her identity rests in an environment that invalidates," Diallo writes, "her practices and her cultural values; in an institution where her life experiences are perpetually portrayed as primitive, backward, hypersexual and inferior; where her mere existence is a challenge to the physical spaces like hallways and classrooms that she may occupy throughout the day; and where her humanity is perpetually under critical examination but through a superficial and selective lens."
Gail Picco is the editor in chief of The Charity Report.
More reviews by Gail Picco
Likeness by David Macfarlane: A father's thoughts of a future without his son July 26, 2021
Sylvia Olsen Unravelling Canada: Pulling at the stitches of Canadian history June 22, 2021
A Girl Called Echo: A Resounding Messenger of Métis History May 10, 2021
David Love: Thoughts of an Environmental Fundraiser April 30, 2021
What Bears Teach Us: The push and pull of co-existence December 8, 2020
Begin Again by Eddie Glaude: James Baldwin as a Man for our Time November 30, 2020
She Proclaims: The necessity of women persistently proclaiming October 20, 2020
The reputation of philanthropy: A history of the facts September 18, 2020
Juneteenth: 'The most keenly awaited novel of the 20th century' June 19, 2020