By Roger Ali (November 12, 2020)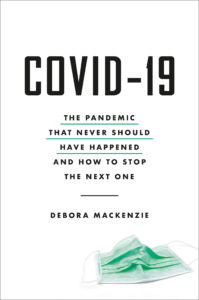 Covid-19 is a hot topic, and living through a pandemic, during unprecedented times, has heightened our awareness and growing concerns about the virus, when it will end and what worse threats may come next. Debora MacKenzie, an award winning veteran journalist, draws our attention to what warnings were ignored, outlining a compelling history of significant recent outbreaks and how we can be better prepared for the next one.
In the first part of the book, MacKenzie gives a vivid account of where the virus started, secrecy between local health officials and the government in China and timing of reporting the outbreak to the World Health Organization (WHO). She reveals, in theory, if Wuhan had enacted stringent containment the moment they spotted that cluster made up of those few cases, then actively looked for other infections and contained them while they weren't many, they might have stopped the infection from spreading far.
Mathematical modeling shows that the kind of measures China eventually took in late January, containment and mitigation, would have vastly educed the size of the epidemic. She makes a strong point the world needs to start taking the threat of pandemics and the warnings from scientists seriously.
Having looked at how Covid-19 emerged, MacKenzie then gives a crash course in Epidemiology 101, an eye opening history of significant recent outbreaks, like Ebola and Nipah, and candidly outlines valuable lessons and warnings we failed to learn from scientists. Her message is crystal clear, that now is the time to improve our systems for monitoring and response and invest in drugs, vaccines and diagnostics for threats we already know exist. She covers the warning shots from previous outbreaks of coronaviruses, SARS, MERS and in pigs, SADS in great detail.
Her two big lessons are that nations haven't learned to protect health care workers and immediately tell the world when a threatening new infection breaks out.
MacKenzie dedicates a chapter to bats and rightfully so, as bats host numerous viruses that can jump to humans, and they warrant close monitoring. She makes a compelling plea our ecosystems, especially globally vital resources like rainforests, need bats. One of the things
I like the fact that MacKenzie isn't afraid to broach controversial topics, like the use of bat feces to treat eye disorders—an important Traditional Chinese Medicine practice. Her point is there are safer ways to get vitamin A. She questions live animal, bushmeat, and wildlife markets as the primary sources of Covid-19, and other viruses, and looks beyond to risks of our hyper-connected world and other greater potential infection pathways for cause and effect.
Getting the flu shot and staying healthy is on my mind like many others right now.
MacKenzie reminds us we still need pandemic planning for flu, if only for bird flu, which is highly lethal—and if gets to a pandemic stage—we would see a much higher death rate than Covid-19.
She details reasons why a flu pandemic is coming and why we remain unprepared. While governments have pandemic preparedness plans, they do not detail containment measures. Her message is clear—governments did not listen to the warnings and were caught off guard when this pandemic emerged. Fighting this pandemic and preventing the next one will take global political action of all kinds, from governments, the scientific community and individuals working together.
MacKenzie closes with seven lessons for the future. Most of these involve changes at the international level, greater openness, cooperation on disease surveillance and reminding us the big superpowers must work together as they have the world's biggest combined infrastructure for infectious disease research.
She highlights just how limited the WHO's budget is and how their hands are tied due to the existing treaty of nations to declare any outbreaks – verification could make it really effective. She covers need for more research, to build vaccine plants and stockpile Personal Protective Equipment. She reminded me of the positive, the opportunity a crisis brings to the table – "we desperately need to redesign the global systems that failed to contain this pandemic".
MacKenzie brings together our knowledge of Covid-19 in a comprehensive, compelling and urgent way warning us to take this pandemic seriously and galvanize our collective efforts and resources to stop the next one. As we reflect on our roles, rather than blame or complain, let's remember how essential fresh air, clean water, shelter, food and human contact are and remind ourselves what we can do better.
(Roger D. Ali, MBA, CFRE is a recognized nonprofit leader and a book reviewer for The Charity Report since 2019.@fundraiseroger)
Also reviewed by Roger Ali
Diversity Inc: How the diversity industry is thriving, even if diversity itself is not September 17, 2020
Rising Tides: Part of the literary response to climate change, July 7, 2020
Joy at Work: Choosing what sparks joy, April 24, 2020