If I Go Missing, Brianna Jonnie (Author), Nahanni Shingoose (Contributor), Neal Shannacappo (Illustrator), Lorimer, December 3, 2019, 64 pp., $24.95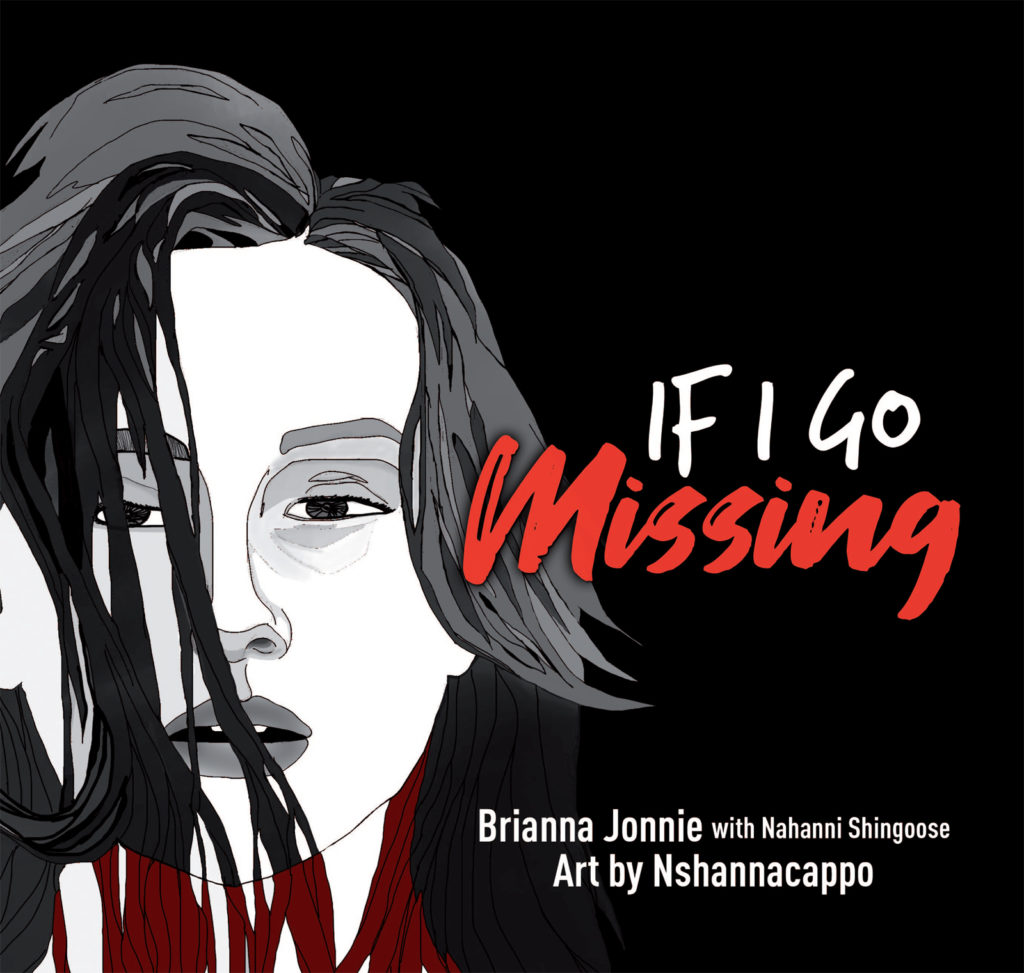 If I Go Missing is billed as a blend of fiction and non-fiction, but when the hypothetical is all too real, it's hard to separate emotion from story. It is the honest truth at the heart of the movement for Missing and Murdered Indigenous Women.
Adapted from a letter to Winnipeg's Police Chief, it is co-written by the original author of the letter, Brianna Jonnie, and and Nhanni Shingoose, a seasoned writer (and Jonnie's no doubt proud Aunt). Neal Shannacappo provides the darkly human tones of greys, blacks, and the occasional deep reds that give the reader insight into Jonnie's 14-year-old world.
When so many no longer trust the process, how will you measure-in quantifiable terms-whether the inquiry into murdered and missing indigenous women and girls is successful?" (Brianna Jonnie to Prime Minister Justin Trudeau, 2018)
Jonnie is an honour roll student, a coach, a volunteer, a daughter of a proud single mother. She contrasts this in direct opposition to Canadian stereotypes about Indigenous peoples. No, she writes, she's not involved in drugs and alcohol. And no, she is not involved with prostitution. Instead, she begins to discuss a recent disappearance of a young boy and the police and media's swift response, and contrasts it with the disappearance of a young Indigenous girl, who is only mentioned in briefing by a reporter with the tickertape underneath reading "Todays Weather: All will be sunshine and rainbows, it's so exciting! Golly!"
Asking for the public for help days or weeks after an indigenous girl goes missing is equivalent to announcing publically her life does not matter, or at least, not as much as others."
To analyze the statement of a 14-year-old Indigenous girl who feels the need to separate herself from sex work to be taken seriously is not only the beginning of an analysis of the complete failure of our society to address the needs and concerns of Indigenous communities, but heart wrenching and unacceptable.
While not written as a call to action, it offers a sobering, human look at the world through the eyes of a kind of person the media chooses to ignore, gloss over, or paint with stereotyped brushes. We will leave it to the author to posit the final question of the book, what if I go missing next? Her answer will surprise you.
Emotive writing and beautiful imagery aside, if you know anyone who has a lack of empathy for Indigenous communities, make them read this book.
(Evan Adamson is a 20- something who has spent the past years consuming any political media he can get his hands on and enjoying manga, anime, and western media.)