As an avid reader, you know stories are compelling and that stories we are hearing for the first time can make us turn away—or draw us in. Here are three riveting books reviewed by three compelling reviewers:
How to forget teaches us how to remember
By Maryann Kerr (August 29, 2019)
It would be easy to say that How to forget: A Daughter's Memoir by Kate Mulgrew is a story about loss, love and family. Just as easily, we might see it as a story about how Mulgrew was launched by her much- loved role as Captain Kathryn Janeway the first ever woman Captain in the Star Trek franchise or as the feisty Red in Orange is the New Black. Perhaps the book speaks to her motivation to be passionately involved as a volunteer on the National Advisory Council of the Alzheimer's Association and the voice of Cleveland's Metro Health System. In fact, it is all of these things and despite the title, and most importantly, it is story about 'remembering.'
In How to forget, Mulgrew, as one of eight children and the eldest daughter, tells a compelling and captivating story about growing up Irish and Catholic in middle America where her large, boisterous family was led by a charming, iconic patriarch and a mother who was unlike any other in Iowa. The story is primarily about Kate's parents Thomas James and Joan Kiernan Mulgrew, and weaves a tale about their courtship, love affair, family life and ultimately their deaths.
We are led on a journey that would have us believe, at first, that Mulgrew held a special place in her father's world. But as the story unfolds, for me at least, it was a story about the unique place each of his children held in his heart and mind. The story is intense at times and for many of the boomer generation, familiar. (What seemed outrageous as a child is less so as an adult.)
I found myself pausing to re-read a passage and then think. Where was her mother when this happened? How might her siblings have described this moment differently? Was this the child's memory or is it layered with the now adult perspective?
"Thirty years earlier, I had missed the funeral of my sister Tessie, a sister whom I adored, because my father had been adamant that I stay and fulfill my responsibility to the producers…"
The story moves back and forth between Mulgrew's childhood, her parents' upbringings and all of their very adult lives. Her father's childhood, growing up with hard-drinking parents who barely survived an arranged marriage, is starkly illustrated.
"My grandfather started toward my grandmother when suddenly young Thos (Kate's father) appeared in the doorway and, looking directly at this father, and very quietly said, "If you lay a hand on her, I'll kill you."
Mulgrew is open, vulnerable, funny and direct. She knows and shares that this is her telling and perspective. Despite the often dark and difficult past she shares, she still leaves us stunned by the conversations to which we bear witness. Like we've been eavesdropping on an intimate family gathering. A father speaking of love and lust for a mother now deep in the depths of Alzheimer's disease. A mother sharing about indiscretions during their marriage.
"She was really something, your mother, wasn't she? Someone you don't often encounter in life. And, to think, your father has loved her for over fifty years."
Perhaps most touching, is Mulgrew's approach to sharing with us the journey through their final days. On the day he has been diagnosed with an inoperable brain tumour and told he has only weeks to live, Kate and her father share a few drinks.
"Are you all right, Dad? Will you be all right tonight?" I asked.
"You mean, am I afraid of dying?"
This question, direct and unadorned, made me blush. My father had intuited that this was exactly what I'd meant. He looked away for a moment, as if considering, then fixed his eyes on me and said, "I don't fear death, but I don't welcome it either.
Drawn to the story because of my own experience with loss, I was struck by Mulgrew's deep understanding of the privilege it is to journey with our loved ones through this time. Unlike the loss that comes with sudden death, illness provides a time and space with loved ones that is unmatched. Conversation takes on a whole new meaning. The memory of holding hands and holding each other will stay with you and sustain in times of need. When you know this person you love deeply, this person who knows you and sees you like no other, is leaving, nothing is left unsaid.
The death of Mulgrew's father is contrasted with the long journey of loss as her mother Joan slips into Alzheimer's disease. We learn that Joan's mother died when she was three years old. A few years later she was packed up and sent to boarding school, where she made life-long friends and became part of the circuit welcomed into the orbit of the Kennedy clan at Shreveport, Massachusetts. Joan's grief at the loss of her mother and the subsequent lack of processing it, however, defined much of her life.
Her capacity to put her grief in cold storage was a device, not a solution. She would spend the rest of her life searching for her mother, and she would never find a suitable replacement because, of course, there can be no replacement for the real mother."
Joan goes on, by her count, to miscarry 18 pregnancies. She survives the death of two of her eight children. She lives with the disappointment of a husband who is married to his bottle and who, as time goes on, finds himself unable to rise to meet her intellectually and creatively or, as her light fades away, with compassion. And yet, the fact they love one another, their children and the life they've built is never in doubt. Perhaps theirs is a love story about survival. A story about how a marriage and a family find ways to carry on despite disappointment.
As a reader, I was reminded of an interview with a famous musician whose band had been together for 30 years. When asked how they had done it, the musician posited that the secret to a band staying together is simple: Stay together. Perhaps too for marriage.
This book is a worthy summer read or meant for long afternoons and evenings in front of a fire. It is a story that helps us to understand that in telling our own stories, in writing down our own histories we can free our minds from the fear of forgetfulness. It is Mulgrew's gift to her parents and her siblings. She writes about her mother heading off to boarding school:
"Stoically, she walked away from the house of her childhood and into a world that would teach her how to forget."
Maryann Kerr has served local, provincial and national organizations in executive leadership. She is currently the Chief Happiness Officer/CEO and principal consultant with the Medalist Group, a philanthropic firm she founded in 2016.
A father-daughter bond of love and activism
By Roger Ali, MBA, CFRE (August 29, 2019)
Let Her Fly: A Father's Journey by Zluddin Yousafzai with Louise Carpenter is an inspirational and unforgettable story of a father and his family, a family that includes his beloved daughter Nobel Prize Laureate, Malala Yousafzai. As a liberal and progressive son, husband, father and leader, Yousafzai breaks all the norms of his time, profoundly impacting on his family, students, country and people around the world. Louise Carpenter, his coauthor, gives life to a beautiful and emotionally charged story narrated by Yousafazi, with support from his wife, friend and lifelong companion, Toor Pekai.
As one of seven children, life in the Swat Valley in Pakistan was simple for Yousafzai. As a young boy growing up in a mud hut, he knew his mother and father had big dreams for him.
His own father instilled a love of education and passion for oration, while his mother provided unconditional kindness. He did not let his stammering get in the way of building self-confidence and defining his path to success.
Early in his childhood, through his personal discovery and reflection, Yousafzai believed in the value of equality and fighting for girl's education at home and around the world. As a champion for equality, he discovers early on something was different in his thinking. His realisation he's been a feminist for most of his life guides his marriage and his parenting. He recognizes the same spark in young Malala as he had seen in himself.
Malala, being the eldest, is the apple of her father's eye. Yousafzai feels a sense of purpose for her. He imagines his paternal role as completely different from the fathers he had seen around him. The choice of her name Malala after Malalai of Maiwand, the female Pashtun fighter who died on the battlefield for her cause, is intentional. He named her this because she is the first woman in their culture who had her own identify, her own name.
Yousafzai feels he needs to speak out against Taliban's stance on women and girls' education, which strengthens his bond with Malala. As that bond grows stronger, he struggles with parenting his sons and acknowledges the relationship with the boys is entirely different.
While Yousafzai proudly describes his sons' agility flying kites and working hand in glove as a pair, he admits to giving more attention and support to Malala as a girl born in a patriarchal society.
There is a sense of guilt when he describes he and Malala's unique personalities, limitations and struggles with childhood. Malala's kindness is evident when she takes on a matriarchal sibling role to comfort her brother, Khushal, whose cup for academic work was stolen. To the rescue, his sister hands over one of her many cups and offers to stick his name on it. It is a kind act; however, her brother's believes it is not the same the cup he won.
His journey with Malala is personal and unforgettable. The bond they share is unique.
So is his life with his wife Toor Pekai, who he describes as a quiet activist, a driving force for her family and women's rights who, at times, challenges his traditional thinking. Walking in her mother's footsteps, Malala, as one of the world's most powerful activists for social change, is also influencing her father's thinking. He is sometimes conflicted by strong cultural views and beliefs.
One of the most powerful—and telling—parts of the book is how Toor and he deal with the first news of Malala's attack. They cry together, experience grief and stand united throughout her unpredictable journey to recovery. Toor helps her husband accept their family must not blame itself for the fact the Taliban came at Malala. I am touched by how big Toor's heart is, full of love for humanity and compassion.
There is great significance to Malala's ritual of washing her dusty school scarf every day after school. Her father believes the scarf washing is an example of her pride in being a schoolgirl. He did not clip her wings and wants her to fly high in the sky, not stay low in the dusty courtyard in the valley of Swat grounded by social norms.
He stands by her, protecting her and building her confidence and strength to fly high herself until she no longer needs protection. Yousafzai views Malala as a brave bird that continues to be an activist even though the Taliban shot her because of her voice. Her extraordinary courage, talent and wisdom led her to prestigious awards including the Nobel Peace Prize in 2014 and being ranked #15 in 2013 Time magazine list of one hundred most influential people.
Today, Malala is a student at Oxford successfully living on her own. She is a shining example of letting the "baby bird" raise itself up off the branch and flap its wings so hard that it effortlessly carries itself high into the air.
Yousafzai and Carpenter are a well-paired duo to tell this story of bravery and goodness.
Roger D. Ali, President & CEO, Niagara Health Foundation and Immediate Past Volunteer Chair of the Association of Fundraising Professionals Foundation for Philanthropy Canada. @fundraiseroger
Not an 'elsewhere' problem … human trafficking happens in our own backyard
by Juniper Locilento, MPNL, CFRE (August 29, 2019)
Out of the Shadows, Timea Nagy with Shannon Moroney, Doubleday, May 30, 2019, 368 pages, $24.70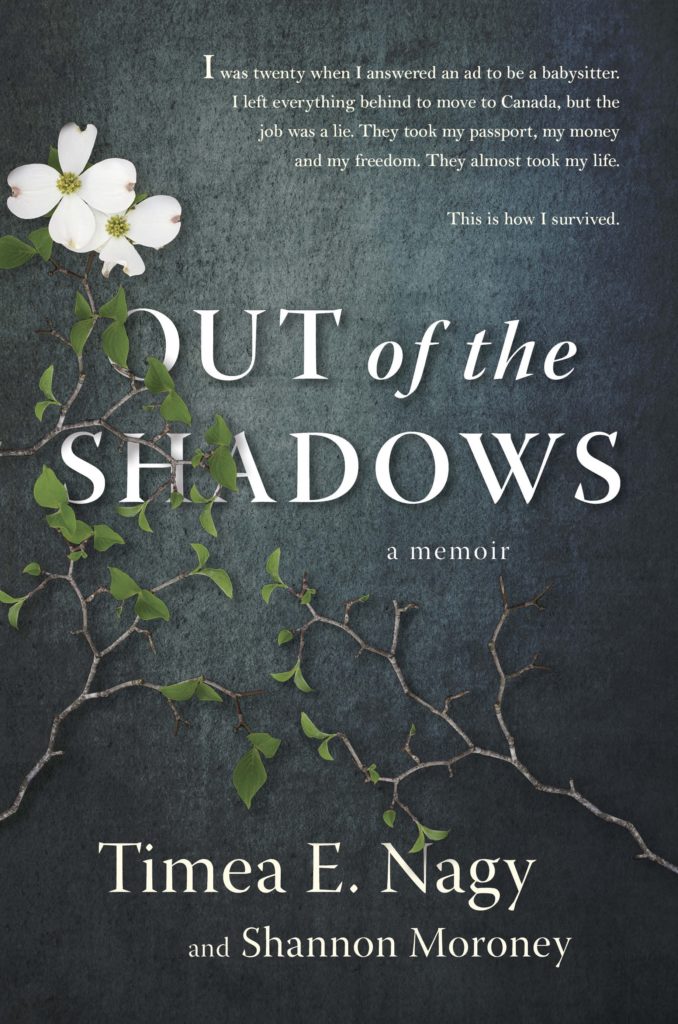 I would not have read Out of the Shadows: A Memoir by Timea Nagy with Shannon Moroney if I were not a member of the Book Review Panel. I am grateful to the author, Timea Nagy, for her courage, and for shining a light on something I've been ignorant of—human trafficking. I can't say that it was an enjoyable read, but it was a compelling one.
There's no question that the content of this book was disturbing, which is all the more reason to commend its authors. They knew that there was no need to sensationalize Nagy's story. Their choice of language is simple and stoic. It telegraphs, even as the reader is witness to Nagy's ordeal, that she is a survivor who will not only save herself but will ultimately commit her life to saving others.
I knew the term human trafficking and had a vague understanding its meaning. Through Out of the Shadows, I've learned that human trafficking is a growing problem in Canada and around the world. It's estimated that 95% of victims are female, with almost three quarters under the age of 25 and a quarter being underage.
When I thought of human trafficking, I pictured lost young women. Glassy eyed. Too thin. But I pictured it as an 'elsewhere' problem, not one that was happening in my own backyard, literally. But the author wrote about locations I'm familiar with – Highway 27, Richmond Hill, Brampton."
Suddenly, I understood her story to be real rather than fictitious. I pictured my own life in the years that she described – the early aughts – and thought about the everyday young adult activities that filled my time. Nagy, not much younger than me, was living a very different life just miles away. Brought over from Hungary under the false pretense of becoming a babysitter, she found herself in a dystopia.
Her captors (or 'agents', as they referred to themselves) told her that Toronto was a dangerous place where a young girl could not walk the streets alone, get into a cab, order a coffee. All things I myself did every day. Nagy worked as much as 20 hours a day, sleeping fewer than 2. She was preyed on mentally, physically and sexually by too many men to mention, and kept in line by (false) stories of disobedient girls drowned in garbage bags in Lake Ontario or doused in boiling oil. This is not the type of book you curl up with in your Indigo reading socks.
Before she was the victim of greedy and heartless women and men who trafficked young women, she was the victim of a political system that failed to provide rights and opportunities. Nagy was a bright and hard-working young woman; before her 20th birthday, she'd been a music producer and had hosted a TV show. It was a fairly modest debt problem that led her to lose her dignity and her humanity.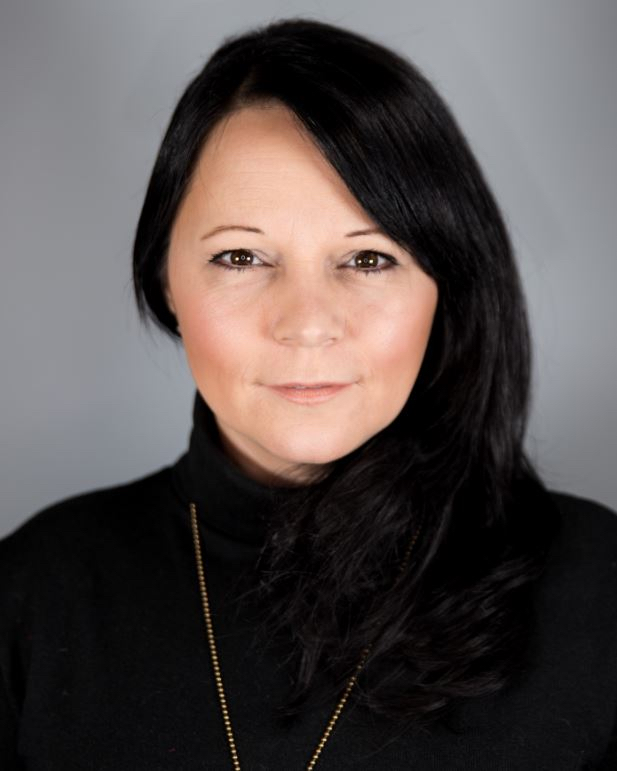 I've always cherished my independence, but this book brought home the fact that there are many, many women who do not enjoy these same rights. Born in Canada, I had the opportunity to craft the life I wanted. Born in Hungary, Nagy did not.
From Nagy and her co-author Shannon Moroney, I learned that human trafficking is a major problem in Canada and is getting worse. It is a sad reminder that there will always be individuals who will prey on those less powerful. We think of Canada as the land of opportunity, and a country that values equity and merit. But that narrative is too simplistic for these complicated times.
This book made it clear to me that there are far too many people suffering – here in my neighborhood, here in my city, here in my country – and far too little interest in changing the status quo.
There are dozens of charities in Canada dedicated to this cause. In fundraising, we know that telling the story of one is more powerful and effective than sharing stats of many. For me, human trafficking now has a human face – Timea Nagy – and I won't be able to look away any longer.
Juniper Locilento, MPNL, CFRE is Director of Development at Community Food Centres Canada, serves as Vice President of Public Affairs, AFP Greater Toronto Chapter, and is a lecturer in the Fundraising Management Program at Ryerson University's Chang School. @JBerri