(March 31, 2021) In a baffling turn of events, Woodsworth College at University of Toronto has rescinded its invitation to Gail Picco, editor in chief of The Charity Report, to speak about the charity sector and a book she has just published, Collecting Courage: Joy, Pain, Freedom, Love about anti-Black racism in the sector.
"A few weeks ago, I was approached by a board member and subsequently invited by Woodsworth College to come speak to their alumni about the sector and about Collecting Courage. "They wanted a 45 minute speech, 15 minutes for questions, and a summary for marketing. I accepted the invitation." 
The marketing summary Picco submitted to Woodsworth College was provided to The Charity Report, as follows:
"A Question of Trust: Charity's fall from grace. From the WE Scandal to the use of philanthropy to clean up dirty money to accusations of racism, sexual misconduct and toxic workplaces, trust in charities has plummeted over the past decade, both externally and for people who work in charities themselves. This edition of the Alumni Café Series looks at the reasons why people are no longer placing their faith in the work of charities."
Picco says she was basing her speech on research showing an unprecedented lack of trust facing the charity sector. Repeated polls agree charities are under water in terms of public trust. Revelations that charitable foundations give negligible support to Black, indigenous or people of colour, and that systemic racism is endemic in the sector have all contributed to a diminishing trust in the sector as a whole. A poll released by The Charity Report, conducted by Proof Strategies, found the public believes charities are the least capable of public institutions to deal with issues of inequity. People working at charities do not trust that their employer has their back when it comes to racism, rampant sexual misconduct and intolerable working conditions."
"After receiving the marketing summary, Woodsworth College withdrew the invitation to have me speak," says Picco.
The email withdrawing the invitation read, in part, "We have been in discussion with the Advancement and Alumni staff at the College regarding your proposed presentation to our alumni. They have asked us not to proceed with the event and this topic. They acknowledge the importance of the issues raised but are not comfortable with the subject matter and there are other sensitivities. The principal has also indicated that she does not wish us to proceed."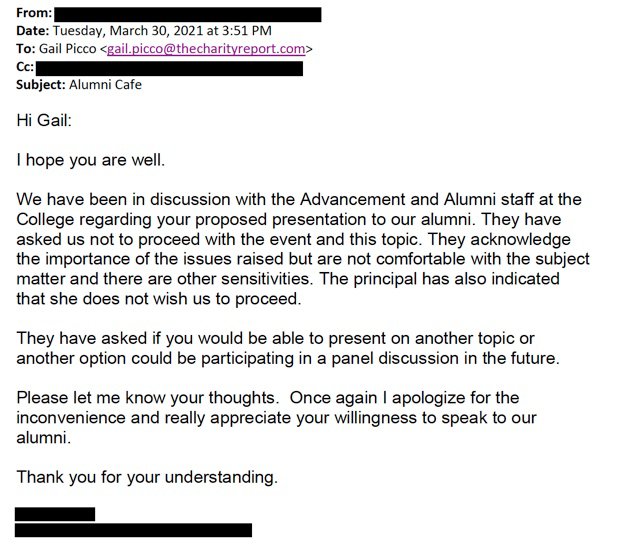 "For some people, the idea of 'being silenced' has almost has a cliché quality about it," Picco says, "but this is a reality. People want you to speak until they think you're going to say something they don't like or agree with. Perhaps the sensitivities they were talking about were donor sensitivities. Or maybe they don't like to think of charities as being racist or sexist. You'd have to ask them.
"But what's puzzling to me is that I have access to a bigger platform than most people. I am a publisher. I edit a widely read news source on the charity sector. What did they think I was going to do after this series of events? Say nothing? Be silent? For an organization that purports to be an institution of higher learning, I don't see their behaviour as being very smart."
Feature Photo: Kane Reinholdtsen