(December 17, 2021) Love it or not love it, Christmas music is the soundtrack of our life for a couple of more weeks.
Everyone's life has a soundtrack. It's what you listen to when you're gearing up to clean the house on a Saturday morning or go for a drive. It's the album you play when you're walking to work, making out or doing the dishes. It's the singing in church, chanting in prayer, drumming in celebration, tolling bells in reverie.
Just to be clear, not the music that surrounds us in the elevator, on the radio, through department stores PA systems starting from mid-November—the Christmas music that serves to irritate at best.
What I'm talking about is the Christmas music we decide to put on when we are home together with our family or just by ourselves at this time of year. When the dust settles, the gifts bought, we start eating good food and drinking fun drinks. What Christmas music do we decide to play to mark the magnificence of a holiday occasion that has the power for one evening and one day to quiet the busiest of cities?
There is a whole canon of beautiful Christmas music to choose from: from the sacred to jazz, blues, Motown, country. And some of this stuff is good. Tremendously good, in fact.
You might have favourites. Or you might not partake in the Christmas music bonanza at all. Either way, here are a few of our favourites that will be played over the next few weeks when we can celebrate light over darkness, good over evil and love over loneliness.
Top Ten Christmas Album picks:
#1 – The Chieftains, The Bells of Dublin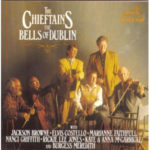 The Bells of Dublin by The Chieftains signifies the beginning of the season. With The Wren In The Furze, The Boar's Head Carol and O The Holly She Bears A Berry, sung by our dear you've got your kick-off taken care of. The Bells is especially poignant this year because in October 2021, we lost Patty Moloney, who the Guardian called "a towering influence in Irish music for more than six decades. His ambition for the band and his love of music led to a long series of collaborations on stage and on record with a wide variety of performers, some from the pop and rock world and others who made traditional music …"
#2 – Vince Guaraldi Trio, A Charlie Brown's Christmas
A Charlie Brown's Christmas is the soundtrack to the most popular Christmas animated movie in the history of humankind, which was released in 1965. If you are wondering what to put on, it will never let you down, and you can hear something to love about it with every listen. Vince Guaraldi was a great musician, and the soundtrack of this movie is a major factor in its continued resonance.
#3 Sumi Jo – The Christmas Album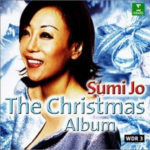 According to Wikipedia, Sumi Jo is a "Grammy Award-winning South Korean lyric coloratura soprano known for her interpretations of the bel canto repertoire." This album could be a gateway into her other music. Her Exsultate, jubilate here is exquisite. And she sings the lovely carol I wonder as I wander with divine simplicity. (In our original draft of this list we actually had this album at #7 but moved it up to #3 because of these two tracks.)
#4 – A Very Special Christmas I (1987)
#5 – A Very Special Christmas 2 (1992)
#6 – A Very Special Christmas 3 (1997)
The A Very Special Christmas, one of the now 8 Christmas compilation albums was released in 1987 on behalf of the Special Olympics with a cover drawing by Keith Haring. It heralded a new era of rockers (and others) doing versions of Christmas classics. A Very Special Christmas 1, with the red cover, had The Pointer Sisters blast a very danceable Santa Claus is Coming to Town into our consciousness. Springsteen's Merry Christmas, Baby is grand as is Run-DMC 's Christmas in Hollis. Very Special Christmas 2, with a green cover, features the swingiest version of Jingle Bell Rock we've ever heard, a song we though was kind of corny before Randy Travis took his turn with it. Nancy and Ann Wilson's take on Blue Christmas will make you say Elvis Who? Sinéad O'Connor singing I Believe in You is a tour de force. The gold-coloured A Very Special Christmas 3 is worth the price of admission for the Smashing Pumpkins' Christmas Time and Patti Smith doing We Three Kings. But there are a few duds on this album too, including Michael Bolton's White Christmas. And we're sad to say Aretha Franklin's version of O Christmas Tree is absolutely frightful, which only goes to show she was human.
#7 – A Noteworthy Christmas
This album was conceived in the early 1990s as a fundraiser for Frontier College, a literacy organization with ties across the country. It features some of the country's best choirs: from Vancouver Children's Choir sing Sound of the Trumpet to the Chor Leoni Men's Choir's suitably robust version of Gaudete. This is hard to find now and is selling on Amazon for $244.07.
#8 – David Willcocks: Bach Choir, The World of Christmas Carols
Sir David Willcocks passed away in 2015 aged 95. A comment on his obituary in The Telegraph called him the most influential choirmaster of his generation. He spent 17 years as director of music at King's College, Cambridge, and for 38 years oversaw the Bach Choir. This recording is what you'd expect from a dedicated choirmaster like Willcocks. His Sussex Carol is bouncy, bright, and beautiful. In Dulci Jubilo is melodic and precise. The whole album … well… it sings.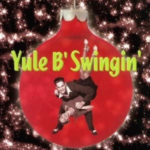 Released in 1998, the one is for people who may feel they've been born into the wrong era. Louis Prima starts things out with What Will Santa Claus Say When He Finds Everybody Swinging? Louis Armstrong & The Commanders follows with Cool Yule and The Glenn Miller Band performs its take on Jingle Bells. Nancy Wilson, formerly of the band Heart, treats us to a thirsty version of What Are You Doing New Year's Eve? (How under rated is Nancy Wilson? So very.)
#10 Al Di Meola, Winter Nights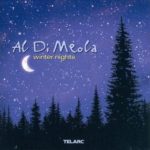 American jazz musician, Al Di Meola, released this album in 1999. It's an incredible piece of work and although it contains a few traditional Christmas songs like Have Yourself a Merry Little Christmas, he covers Scarborough Fair and Greensleeves with crisp, Latin-infused, wintery guitar and maracas. It's a bit of a masterpiece and great to listen to at night.