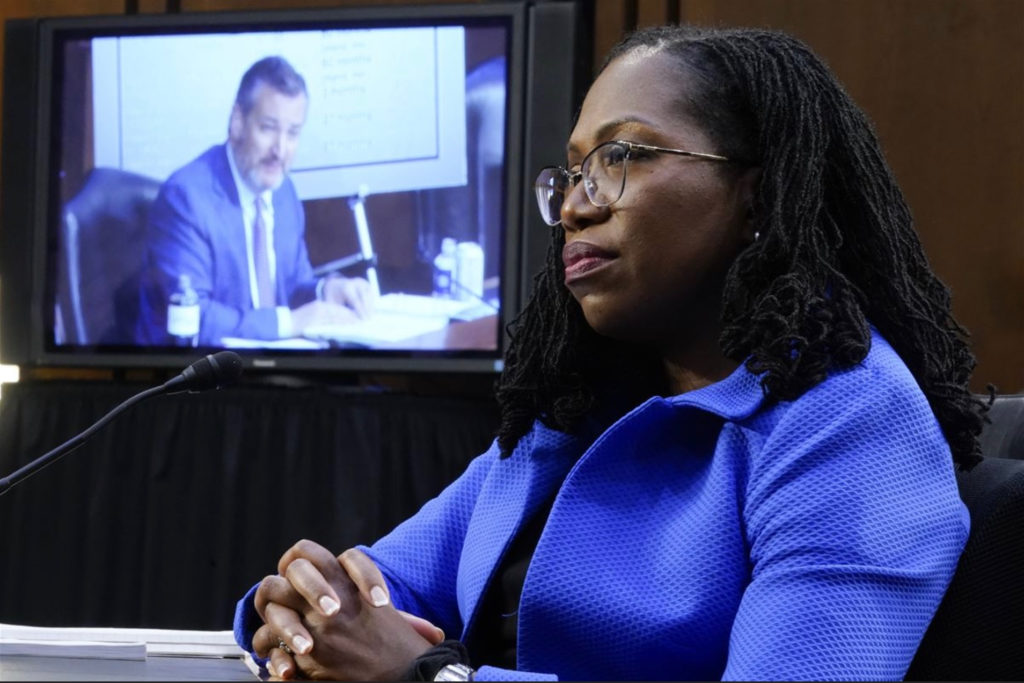 (April 22, 2022) "The American Accountability Foundation has undermined the likes of Ketanji Brown Jackson, but it's also gone after relatively obscure political appointees whose public profiles can be easily distorted," writes Jane Mayer in this week's New Yorker article, The Slime Machine Targeting Dozens of Biden Nominees.
Mayer has been an award-winning investigative reporter for the New Yorker since 1995, and is the author of 2016 New York Times best-seller Dark Money: The Hidden History of the Billionaires Behind the Rise of the Radical Right.  
According to the charity rating website, Charity Navigator, which bills itself as "your guide to intelligent giving," The American Accountability Foundation's mission is "Not available" and neither is any scoring of the charity. Charity Navigator uses four criteria to rate charities:
Finance and Ability
Impact and Results
Leadership and Adaptability
Culture and Community
Given the current political environment, rising authoritarianism and the ability of especially wealthy, and largely opaque charities to influence public policy, it all sounds so quaint, although if we take the politics out of it, The American Accountability Foundation could be considered successful on all fronts.  
According to Mayer's reporting, "An explicit purpose of the A.A.F.—a politically active, tax-exempt nonprofit charity that doesn't disclose its backers—is to prevent the approval of all Biden Administration nominees."
Its involvement the Ketanji Brown Jackson Senate confirmation hearings involved providing "background" to Republican senators including Ted Cruz, Josh Hawley, and Marsha Blackburn that painted Ketanji Brown Jackson with a "soft-on-sex-offender" record during her eight years as a judge on the United States District Court for the District of Columbia, a claim quickly disproven by looking at her sentencing record.
The article reports that Marjorie Taylor Greene, the extremist representative from Georgia, called Ketanji Brown Jackson "pro-pedophile."
As the Institute for Policy Studies reported last July, the global right wing has a "bizarre obsession with pedophilia," which it also uses to target homosexuals and the transgender community. It's a notion that has fueled autocrats like Vicktor Orbán of Hungary and labelling non-believers as "pro-pedophile" is a mainstay of QAnon conspiracies.
To underline its impact on governance, The American Accountability Foundation also hosts a website called bidennoms.com, with which it hopes to scuttle all nominations made by the current US President Joe Biden. It does this to "ensure that leaders within the federal government reflect the values and concerns of the American people, not the liberal coastal elites and their woke allies in corporate America." They do extremely detailed research, and are particularly targeting people of colour and women. And, although the tactic didn't work in Judge Brown's case (except smearing her exemplary record), they have experienced success with their tactics.
Mayer reports, "Saule Omarova—a leading academic in the field of financial regulation, who is a law professor at Cornell and holds doctorates in law and political science—withdrew her name from consideration as Biden's Comptroller of the Currency." Having been born in Russia, she was accused of being a communist by Republican senators fueled by talking points developed by The American Accountability Foundation.
Mayer also says that when the A.A.F. applied for its tax-exempt status, it billed itself as a nonpartisan charity that would neither participate in partisan politics or try to influence legislation. According to its recent I.R.S. filing, it predicted its 2021 budget at $600 thousand, $1 million in 2022 and $1.5 million in 2023. They are not required to publicly disclose their donors.
Although Mayer doesn't specify, donors to a foundation can remain anonymous if their contribution is in the form of a donor advised fund. A donor advised fund (DAF) is an account established when a donor makes an irrevocable donation to the foundation that houses DAFS. The donor to the DAF – which could be the accountholder or a third-party donor – receives a charitable tax receipt upon making the donation.
In both Canada and the United States, donor advised funds are anonymous. The foundations which receive them are under no obligation to disclose their owners. Their money remains dark.
But in Canada, there is very little restriction on charity spending for political purposes. The laws around charities and political activities changed in Canada in 2018. And although charities cannot directly or indirectly support or oppose a political party or candidate for public office, the new rules to permit charities to carry on unlimited public policy dialogue and development activities (PPDDAs) in furtherance of a stated charitable purpose. PPDDAs generally involve seeking to influence the laws, policies, or decisions of a government.
All this in an environment where right wing extremism in Canada is rising exponentially. We only need look at the recent report An Online Environmental Scan of Right-Wing Extremism in Canada by the Institute for Strategic Dialogue , the recent "Trucker" Convoy in Ottawa and the crowds showing up to the Conversative Party of Canada leadership candidate Pierre Poilievre.
The leadership race appears to be Pierre Poilievre's to lose, according to a new poll, that also suggests he may not be able to broaden the party's appeal, according to Global News.
In 2008, Poilievre had to apologize for saying indigenous people in Canada needed to "learn the value of hard work more than they need compensation for abuse suffered in residential schools."
In 2009, he faced accusations of racism after he twice used the term "tar baby" in the House of Commons.
His crowds are largely white, and he has been a purveyor of grievance felt by white men. According to a recent article in Macleans magazine, "He has been described in media stories over the years as "probably one of the more generally infuriating individuals on Parliament Hill" and someone who "savagely attack[s] opponents without regard to nuance, or even the basic facts."
That the trucker convoy on Parliament Hill was able to unseat the head of the Conservative Party of Canada within a week of its arrival is testament to the power of the movement.
And in terms of the notion of Canadian charities funding right wing groups with dark money or themselves running programs like The American Accountability Foundation, the ingredients are there—lack of transparency and the rise of right wing idealogues. How would we even know it was happening, especially when charities continue to frame themselves as the good guys in every equation. 
Related reading
The anatomy of a right wing protest February 19, 2022
The ugly face of right-wing extremism in Canada September 2, 2021
Right wing extremist groups growing in Canada: Muslims and the prime minister key objects of their scorn June 21, 2020