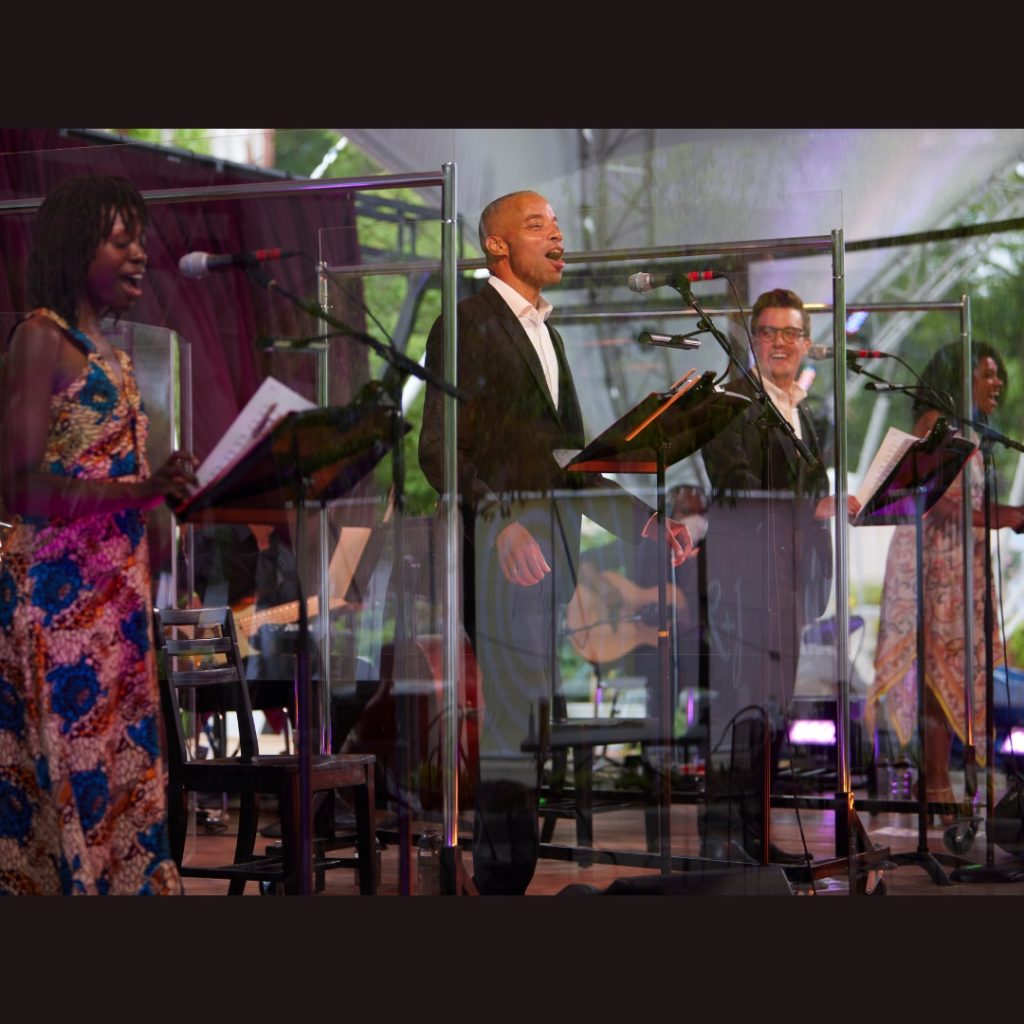 (July 14, 2021) It's déjà vu all over again with the Stratford Festival opened, and its season being held under a tent, the same way it opened in 1953, with Alec Guinness and a young Christopher Plummer among the cast of Richard III. Plummer wrote about the experience in his deliciously gossipy autobiography In Spite of Myself.  It wasn't until 1956 that Plummer played his first big role at Stratford as Henry V in 1956. In 2010, he played Prospero in The Tempest.  
All that history has been on hold since the pandemic began in March 2020.  But no more. The Stratford Festival opened yesterday with the year's first show Why We Tell the Story: A Celebration of Black Musical Theatre.
"July 13th has been an auspicious date for our Festival and now that we are back in tents again, we hope that day will herald a wonderful reawakening of live theatre," Artistic Director Antoni Cimolino, said in a statement.
"While we introduced the canopies in response to the public health crisis, the outdoor setting alludes beautifully to our first season and provides a magical setting in which to experience theatre," says Executive Director Anita Gaffney. "Preparing for the 2021 season has been an adventure, forging new paths, reshaping old ones and responding to the ever-changing conditions. After 15 months of planning and re-planning, I can hardly wait to welcome audiences back."
Why We Tell the Story is curated and directed by Marcus Nance, who also performs in the cabaret, along with Neema Bickersteth, Robert Markus and Vanessa Sears. The musical director is Franklin Brasz.
Four other productions will begin in July:
July 15 to July 31: You Can't Stop the Beat: The Enduring Power of Musical Theatre
July 16 to August 1: A Midsummer Night's Dream
July 23 to August 21: Tomson Highway's The Rez Sisters
July 29 to August 15: Play On!: A Shakespeare-Inspired Mixtape
The season will run through to the beginning of October, also featuring
August 12 to September 26: R+J
August 19 to September 5: Freedom: Spirit and Legacy of Black Music
September 9 to 26: Finally, There's Sun: A Cabaret of Resilience
August 10 to September 12: I Am William
August 28 to September 26: Serving Elizabeth
August 10 to October 9: Edward Albee's Three Tall Women
Tickets will go on sale to the public beginning July 12. For tickets and more information, visit www.stratfordfestival.ca or call 1.800.567.1600.  
Related reading
In the wake of a "crushing" decision to cancel its season, the Stratford Festival offers an unprecedented roll-out of Shakespeare films – for free May 14, 2020
Stratford Festival cancels rest of 2020 season April 29, 2020
"I regard the theatre as the greatest of all art forms … a human being can share with another the sense of what it is to be a human being." ― Oscar Wilde April 1, 2020A