(January 5, 2020) On November 16, 2020, Elections Canada felt compelled to issue a tweet to say it did not use machines to count ballots, specifically Dominion Business Machines, a company Donald Trump and his Republican party have repeatedly said were used to alternately destroy ballots or double count ballots. These claims have been dismissed in more than 50 legal actions.
The tweet was required after the president's accusations about voting machines traveled north, primarily through social media. The Elections Canada tweet was met by some skeptical Canadians who "know they put their ballots into machines," requiring the 100-year-old federal agency needing to clarify that "laws and practices differ between provinces and municipalities," and some provinces use machines to count votes.
Several Canadian media outlets including CBC, Globe and Mail and CTV reported on the Trump tweet on January 3, 2021 after it was revealed by The Canadian Press and obtained through access-to-information legislation. Among the three dozen pages of documents obtained by Canadian Press that "many Canadian social media users had been claiming that machines created by Dominion Voting Systems, used in the American election, had also been used here. Some people believed the result of the last federal election was illegitimate.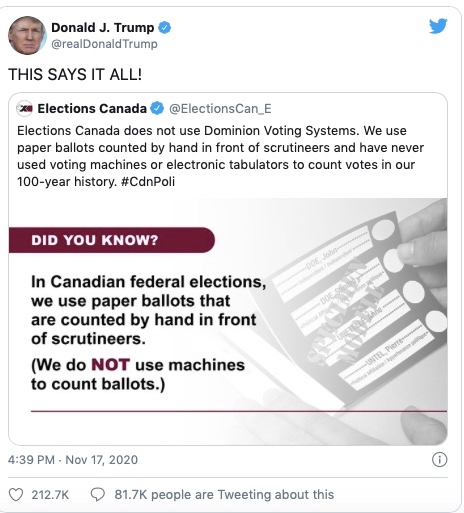 The CBC reported, the tweets were linked to the U.S. election and unverified claims from U.S. President Donald Trump and his allies that automatic vote tabulators were to blame for his loss to Joe Biden.
Dominion Voting Systems has warned Fox News, major Fox personalities, other conservative media outlets, radio host Rush Limbaugh and conservative lawyers that defamation litigation against them is "imminent," according to CNBC.
ABC reported on January 4, 2021 that, "an election systems worker who was driven into hiding by death threats has filed a defamation lawsuit against President Donald Trump's campaign, lawyers Rudolph Giuliani and Sidney Powell, and some conservative media figures and outlets."
The COVID pandemic being fought by responsible governments throughout the world is only matched by the pandemic of falsehood and audacity expressed by right wing groups, including right wing hate groups becoming more active in Canada, as The Charity Report wrote about in July 2020.
Ultimately, Elections Canada has brought in the heavy artillery to help in combat misinformation.
Using an illustration of the Jedi master, it tweets, "Strong the force is, with those who spread false information online. Stronger, must you be, yes? Follow Elections Canada, you can, for trusted information on federal elections." 
Elections Canada @ElectionsCan_E
Related story
Right wing extremist groups growing in Canada: Muslims and the prime minister key objects of their scorn June 21, 2020