By Katherine Verhagen Rodis, June 20, 2022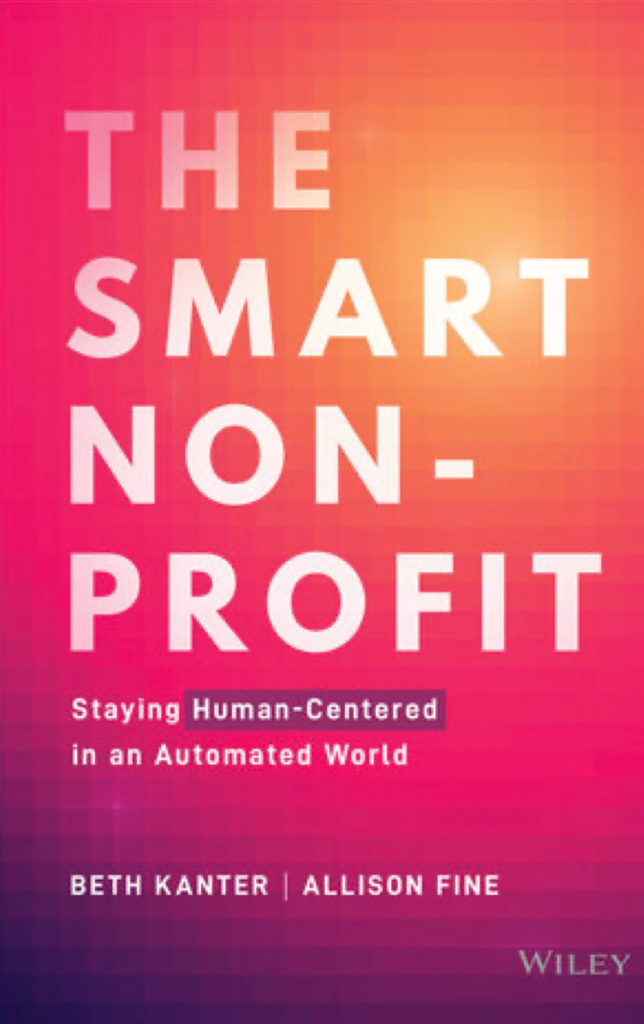 In The Smart NonProfit , Beth Kanter and Allison Fine offer a smart tech solution for freeing up staff time for more meaningful tasks and restoring their often off-kilter sense of work-life balance.
Canadian charities face increased demand for services and decreased support from donations, as CanadaHelps shares in The Giving Report 2022. We're being asked as nonprofit workers, "how can we do more with less?" Less revenue? Less staff? Less volunteers? While 78% of charities in Canada operate on $500,000 in revenue a year, many leaders are asked to make each operational dollar count.
As economic inflation rises exponentially, wages remain steady or fall short. Thus, more people need vital services which charities rush to provide, all the while operating with starkly decreased revenues, less volunteers and often less staff.
CanadaHelps shares a startling fact: one in four Canadians expect to use or are already using charitable services this year to meet basic needs. One in four Canadians expect to give less this year than they did in last year.
Coupled with profound capacity challenges, nonprofit staff who remain often feel overworked, leading to or increasing the strain of existing mental health problems. Thankfully, we're seeing more support for workers – profit and nonprofit – to reduce overwork outside of work hours, like with Ontario's new "Right to Disconnect" law.
The Smart NonProfit wants nonprofit leaders to delegate "mundane and repetitive business processes" and decisions to smart tech vehicles – "artificial intelligence (AI), machine learning, natural language processing, smart forms, chatbots, robots and drones."
Kanter and Fine aren't talking about social media integration, digitizing annual and impact reports, or creating customized stewardship videos. They're talking about delegating work – and the decisions required to execute that work – to "advanced digital technologies that make decisions for people, instead of people."
Nonprofits can unburden overworked employees by delegating repetitive and "rote" tasks to smart tech. Nonprofits can adopt "website-based chatbots that provide 24/7 answers to oft-asked questions, hiring software that screens resumes for certain criteria, and robots doing manual labor like restocking food bank shelves."
Surveys say that nonprofit leadership is already eager to adopt smart tech. Nine in ten Canadian nonprofits surveyed in a recent private sector study consider their digital transformation efforts a top priority in their efforts to update business processes and gain efficiencies.
In The Smart NonProfit, however, Kanter and Fine stress that the solution will only work in the long-term if nonprofit leadership takes a "human-centered" approach in adopting smart tech automation. Nonprofit workers will become more productive and more driven if they're given tools to free up time for meaningful tasks, analytical thought and innovation. Therefore, they'll be more "profitable" for nonprofits if they're allowed to be more human.
Smart tech needs to be implemented with a thoughtful plan that aligns with the mission and values of the organization that adopts it. Smart tech can be transformational but it doesn't have to be transactional. The quickest "pathway to the unethical use of smart tech," Kanter and Fine warn, is to "think [that] smart tech is a technical problem to be solved by the IT department rather than a profoundly important leadership issue."
Kanter and Fine's The Smart NonProfit gives a clear framework for leaders to examine critical areas for smart tech adoption: "responsible use, bias and privacy." Responsible use means mitigating risks and treating employees fairly, otherwise, leaders can lose public trust as well as staff who will move onto more trustworthy organizations. Leaders need to root out embedded bias – codified racism, sexism and ableism, for instance – or they risk amplifying it in their organization's programs and services. And, they need to guard data privacy, especially since so many nonprofits handle sensitive information for vulnerable populations. 
However, if a leader is more interested in "the budget than [staff] livelihoods," they're going to approach smart tech accordingly. An executive director once asked Kanter and Fine directly, "Who needs a five-person fundraising team when bots are going to do the research and communications automatically?"
Kanter and Fine would say that we need a more human-centred approach. Train and support workers to handle smart tech responsibly, challenge bias and guard privacy. Make staff retention a priority, rather than an oversight. Used well, smart tech can help promote a sense of community at work, unburden workers of part of their workloads and give them more chances to explore, analyze and innovate, fostering a greater sense of purpose.
If we're going to put some decisions in the hands of machines, then let's make sure that they're the right ones.
Also reviewed by Katherine Verhagen Rodis
Heads Up: 'These stories can be a place of refuge' May 1, 2020
The Undying: Are breast cancer messages doing more harm than good? December 19, 2019
The Geography of Risk: The high cost of "disaster capitalism" October 10, 2019