By Wanda Deschamps June 14, 2021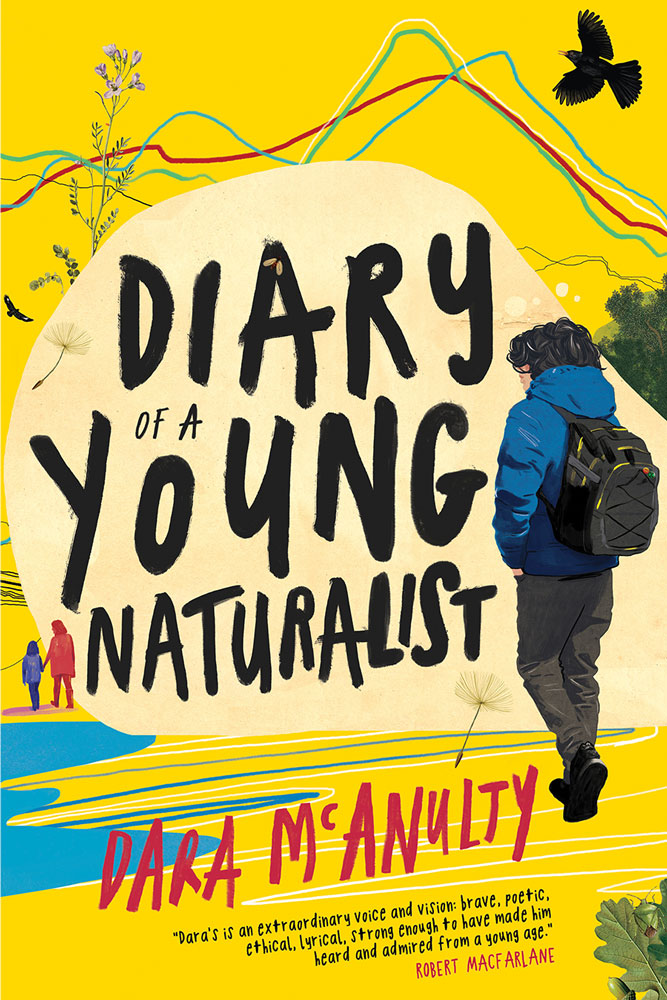 Diary of a Young Naturalist, Dara McAnulty, Greystone Books, June 2021, 224 pp., $27,43
Diary of a Young Naturalist is a year-long chronicle of Dara McAnulty's perspective on nature as a teenager from the age of fourteen to fifteen, originally published in the UK. Through his journey, including his family's relocation from the west of Northern Ireland in County Fermanagh to the east in County Down, to his encounters at school we learn about an extraordinary young autistic environmentalist living his life as his true self empowered by his family and deeply connected to insects, birds, plants, and other aspects of nature he loves.
Structured according to the seasons Spring, Summer, Autumn, Winter, Dara McAnulty takes you with him to a variety of natural settings through the nuanced accounts of his observations.  
"Dog violets push through first, just as the sparrows dig the moss from the guttering and the air is as puffed out as the robin's chest. Dandelions and buttercups emerge like sunbeams, signally to bees that it's safe to come out now, finally. Spring is about watching each resurgence."
It's as if each creature of nature has its own personality.
McAnulty builds a deep connection with the reader because his writing is reflective and accumulated through a deep level of self-awareness. His self-description is detailed.
"I'm Dara, a boy, an acorn…I have the heart of a naturalist, the head of a would-be scientist, and bones of someone who is already wearied by the apathy and destruction wielded against the natural world."
He is also forthright about his and his family's autism.
"Not only is our family bound together by blood, we are all autistic, all except Dad – he's the odd one out, and he's also the one we rely on to deconstruct the mysteries of not just the natural world but the human one too. Together, we make for an eccentric and chaotic bunch. We're pretty formidable, apparently. We're close as otters, and huddle together, we make our way in the world."
Yet, McAnulty is his own person and while most of this is obviously manifested through his independent thinking, his unique interests, and his ability to see things others do not, some examples are more subtle. The span of two of the seasons do not follow calendar-based definitions. I like this break from tradition, a creative approach for someone whose parents were told,
"Your son will never be able to complete a comprehension, never mind string a paragraph together."
This cruel remark from a teacher is only one example of under-estimating an individual with autism due to his variances in communication and social interactions from the mainstream population. All the more reason we want to cheer from the sidelines as, Dara McAnulty appears to flourish in many ways while he progresses through early adolescence.
The challenges of being autistic are always present though and he does not hide them,
"In my last school we had a board-and card-game club and although we didn't talk much (we were all on the autistic spectrum), there was a camaraderie that was a lifeline in such a challenging environment. Many of us wouldn't dare go outside. When we did, we were immediately the bullseye on the target. It was as if we wore bright-neon beacons that basically said yeah, come and beat me up for being different."
When will our society finally learn that different is good?
His sensitivity to nature, including animals and his empathy to their plights are conveyed with a breadth well beyond his years. He provides insight to a practical side of his interests.
"During almost every lesson I have to remove myself and sit outside the classroom. Sitting still, breathing in and out, vanishing in a maelstrom. Thank goodness for the school 'safe space' – it's a room reserved for kids on the spectrum, or others with needs for a quiet space. Some people think I'm isolated in there, but no. I'm safe. My brain can expand and spill out the burdens."
Through these accounts of his sensory sensitivities, we better understand why nature is both a retreat, and a cause, for McAnulty. Logical then that he is driven to help save it and the entire ecosystem. Close to the end of the third section, McAnulty's activist side emerges, and he begins to offer the views he has now become known to share publicly.
"I feel emboldened, outspoken, I feel like it's the first time I've actually said out loud all the many things I'm angry about. It feels energised and raw as I look above the people, raising my voice, declaring out loud, my anger rising. These are the threats we are facing. These are the crises that the most vulnerable in the global south are already facing. Yet those in power do nothing." 
Section four opens with a black and white photo of Dara McAnulty in his school uniform affronting a youth climate protest. His February 15 entry recounts his attendance at the "School Strike for Climate" incited by Greta Thunberg, and he reflects on what he has done and what this means for him and others' view of him.
"The feeling that I had to do something has been bottled up for years. And this simple act has attracted more attention than all the other things I've done, all the work with raptors, the talks and awards for the things I've written. Is this more powerful? …Just one single act of walking out and I've been crowned. It doesn't sit easy. It's not me, not at all."
And somehow it is him because Dara McAnulty has since undertaken such commitments as being an ambassador for the Jane Goodall Institute among other organizations. At the age of seventeen he is the youngest ever recipient of the Royal Society for the Protection of Birds Medal for conversation and as of May 26 according to his Twitter account, he has received the fourth award for his publication.
Diary of a Young Naturalist is for youth, and reads for adults too. It is for neurodiverse and it is for neurotypicals. It is for those who wish to learn about and celebrate the beauty of nature. Perhaps most of all it is for those who yearn for an inclusive society and those who wish to seize our opportunity to help address the havoc we are wreaking on our climate before it is too late.
(Wanda Deschamps is founder and principal of Liberty Co, a consultancy working to increase the participation level of the neurodiverse population in the workforce.)
Other reviews by Wanda Deschamps
Unwinding Anxiety: From the brain and the heart, May 6, 2021
How to lose everything: Unimaginable and uplifting February 11, 2021
The Art of Logic: Arriving Just in Time January 28, 2021
Tomboy: Has appeal for all readers November 24, 2020
Trampled by Unicorns: Big Tech's Empathy Problem November 9, 2020
Calling Bullshit: 'There are three kinds of lies: lies, damned lies, and statistics.' November 4, 2020
The Conscious Creative: Creating your own values-driven practice October 6, 2020
The Power of Disability: A book about life June 9, 2020
I Overcame Autism: Moving autism further into the public conscience April 28, 2020