By Roger Ali (September 3, 2021)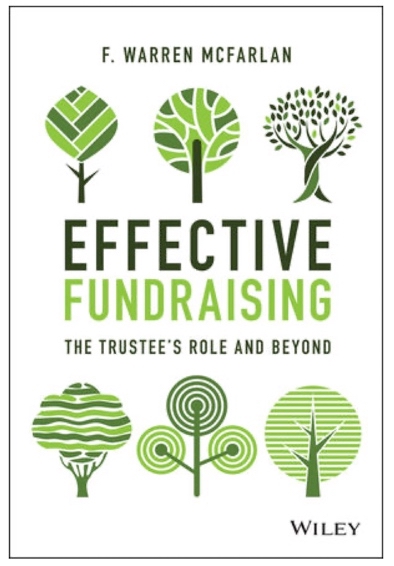 (September 3, 2021) Effective Fundraising is an indispensable guide to help boards and executives new to fundraising and asking for money. The book is a blueprint on everything you need to know from governance to the major fundraising programs and information management. McFarlan has deep knowledge and experience in research and board service and shows the steps and strategies to develop a strong revenue development plan for sustaining your organization.
McFarlan begins by laying the context with three propositions upon which the book is based.
First, he says, "Most people do not like asking other people for money."
Second, "The most effective advocates for an institution are its supporters."
Third, "There are some things that can be done to relatively easily to transform someone from being reluctant to making the ask into someone who can effectively and enthusiastically make an ask."
He believes we simply must change the mindset for this task and gives helpful lessons in making the ask. I learned fundraising from the ground up and the fundamentals are still true to this day – fundraising and friendraising go hand in hand.
Effective Fundraising goes on to deal with governance talking about the role of the governance committee and the importance of acquiring a CEO with the right interest and skill set. He illustrates key points on a development-oriented culture and leadership and recruiting the right kind of board of donors and connectors with a case study.
At the end of the chapter, he provides a useful exhibit with a summary of governance levers that can be activated and thought-provoking questions that trustees should ask about governance. I recommend a pause and reflection on what you have read as it sets the framework for the next chapters and that you repeat the process as you continue reading the other chapters.
Next, he focuses on the roles, responsibilities, skills and challenges of the key people who play critical roles in shaping development. These include the chair of the board, heads of key committees, CEO, and the head of development. McFarlan discusses each role in detail and underscores having a strong CEO and development leadership for effective fundraising transformations. For those looking to build committee terms of reference or job descriptions, this chapter provides practical and useful content.
The next three chapters outline the major fundraising programs that are core to any revenue generation program. He provides all the activities you need to know to build or grow the annual fund. Competitive benchmarking, strategic use of donor data, a well-crafted plan and personalized stewardship are part of a strong financial program. I believe annual giving is an important foundation to build other programs, such as leadership and major giving.
He continues providing a useful description from A to Z to planning a capital campaign. The section on campaign setup is described clearly for new board leadership or a CEO new to overseeing a capital campaign. The snapshot on capital campaigns is an ideal piece to include in a board orientation package. McFarlan's overview and advice of the key campaign phases: silent, public and end is educational and ideal to review with a capital campaign committee. I would incorporate it in the risk management framework to monitor the organization's reputation and financial commitments for a major campaign.
He then describes Planned Giving and tools to help the donor with estate planning. The gift vehicle options and examples are provided in a U.S. context. The financial information is easily transferable to an illustration or presentation for the donor. As a gift planning practitioner, I have worked with allied professionals, lawyers, and financial planners to structure the gift and get the best outcome for the donor.
Effective Fundraising continues with event planning and the general characteristics of running a successful event. The content in this chapter is easily transferable to an event checklist for an event planning committee or the lead special events officer. We have learned over the last year and a half having a virtual event platform to allow one to pivot or recreate the vibe of an in-person event with streaming, engagement, networking, and sponsor tools is critical to planning great fundraising events. More importantly, choosing the event and customizing the experience will keep the fun in event fundraising.
Information management and support has transformed how we fundraise and build long lasting donor relationships. McFarlan says, "Development in the Information Age is simply different!" He is right as we have had to weave traditional, tried and true practices of donor relationship management, with different types of electronic information and forces than we did in the past. The chapter on information support gives the reader pause for reflection on the Information Age and the balance in using interpersonal strategies to engage the donor and acquire significantly large gifts.
McFarlan reminds us about the critical attributes to run a successful social enterprise: leadership and governance. Fundraising is central to the mission and its existence. He rightfully reminds us that it is the unique and special responsibility of the trustees and supporters to help secure resources for the organization. An important step is to make a meaningful commitment of time and financial resources. He ends with a series of thought-provoking questions for trustees to answer.
In summary, Effective Fundraising is one of the latest books I have read the gives a descriptive blueprint to effective fundraising and financial sustainability for the social sector. I recommend including a copy in your trustee's orientation and onboarding plan.
Roger D. Ali, MBA, C. Dir., is a recognized nonprofit leader and a book reviewer of The Charity Report since 2019. @fundraiseroger
More reviews by Roger Ali
Saga Boy: Beautiful, raw, and searching June 11, 2021
Covid-19: The Pandemic that Never Should Have Happened November 20, 2020
Diversity Inc: How the diversity industry is thriving, even if diversity itself is not September 7, 2020