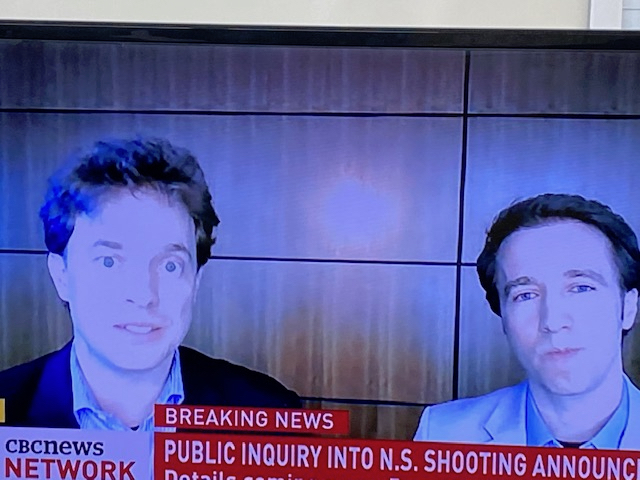 (August 14, 2020) On June 25th, the news broke about $900 million in federal COVID relief for students being funnelled through the WE Charity.
In the intervening eight weeks, the ill-fated partnership has possibly become the biggest charity news story in Canadian history.
"The WE Charity is the biggest and the most complex controversy I can recall in the charity sector," says Paul Alofs, former CEO of the Princess Margaret Cancer Foundation. "It involves an extremely high profile charity and the most senior levels of our federal government in truly regrettable and damaging behaviour."
As new details about the charity emerge, they are examined and parsed by sector observers. Three federal committees are holding investigations into the deal—the Ethics Committee, the Finance Committee and the Standing Committee on Estimates and Spending, which oversees the Treasury and the Ministry of Procurement. The lives of the students who the program was designed to help ceased featuring into the narrative long ago.
The committees have asked questions related to governance, finance, governance, lobbying, conflicts of interest, salaries and structure. At times the interlocutors have been mocking, frequently misinformed and ready to put their words in the mouths of those testifying. Every bad thought you could think about a charity appears to be embodied in WE.
"The WE Charity scandal is a sum of its extraordinary parts," says Alofs.
"Two of the most famous and high profile leaders in the nonprofit world, plus the prime minister, plus the finance minister, plus their families, plus an enormously dysfunctional board, plus terrible governance, all during the shock waves spreading through the charity sector from COVID-19. The timing couldn't have been worse for the sector."
The fall of WE has happened fast.
Less than a year ago, young people filled sports stadiums in 15 cities around the globe for ther annual WE Day. WE ambassadors encompassed A-listers from the world of entertainment, politics, civil society and the corporate world. Board members included senior bank executives from Scotiabank and RBC, sophisticated people with long resumes.
Additionally, WE's finances, governance and unique structure were independently and favourably reviewed by two of the most well-known law firms in the country, Torys LLP and Miller Thompson, as well as former Supreme Court Justice Peter Cory, among others.
All three founders of the organization have been awarded the Order of Canada. Additionally, Craig Kielburger has received 13 honourary doctorates and degrees. Marc Kielburger was selected by the World Economic Forum as one of 250 Young Global Leaders. Roxanne Joyal, a Rhodes scholar, clerked for the Supreme Court of Canada and received an honorary doctorate.
It's been the early 1980s since a Canadian charity was under such scrutiny. After HIV/AIDS was first reported in Canada on March 27, 1982, it took the Canadian Red Cross three years to start screening for HIV. According to a CBC retrospective, by then "2,000 Canadians were infected with HIV from tainted blood products, as many as 30,000, were infected with hepatitis C."
After a lengthy investigation, Justice Horace Krever issued a 1,200 page report and said the "blame for this 'nationwide public health calamity' didn't simply lie with one institution reacting too slowly to a deadly emerging disease. He found that there was plenty of blame to go around."
Fundamentally, Justice Krever found that, "the relationship between the Red Cross and the federal and provincial governments was dysfunctional, and as a result, the country lacked a national blood policy."
Ultimately the Canadian Red Cross was stripped of its blood services work and Canadian Blood Services was created.
In 2001, the Supreme Court of Canada ruled the Red Cross negligent in the early days of the AIDS crisis. As the Globe and Mail reported, the court found that the negligence on the part of the Canadian Red Cross caused blood recipients to contract HIV/AIDS.
Starting in 1989, succesive federal governments paid out billions of dollars in compensation to the families of people who died and to people sickened by tainted blood. Final compensation was only settled in 2007.
On its current website, the Red Cross refers to the crisis by saying only that, "the end of the CRC's role in Canada's blood system marked another turning point in the organization's long history, but the CRC would continue to evolve, as it had done many times in the past."
The flavour of our current scandal is different. No one has died, no one has been sickened, and instead of a serious arbiter making the relevant inquiries, there are three Parliamentary Committees operating in a minority-government situation with each MP trying to land a blow that results in a tweet or possibly even a spot on the evening news.
Opposition parties of all stripes are using a charity—which, to them, is no different than a sole-sourced construction company or advertising agency—to take aim at a prime minister whose government, up to the point of the WE controversy, had been getting reasonably good marks for their coronavirus response. The prime minister's approval rating, and that of provincial premiers across the country, was on the rise.
Then the government's proposed partnership with WE, an organization both the prime minister's wife and mother had been involved with, gave the opposition the fuel it needed to pounce.
Within the past two months, Conservative Party leader Andrew Scheer accused Justin Trudeau of "letting COVID-19 money go to ' fraudsters' and 'criminals' and that Liberal MPs signalling are they're OK with 'corruption' if they don't demand Trudeau's resignation.
New Democrat party leader Jagmeet Singh tweeted that "giving money to WE was never about help for students, but about help for [the prime minister's] well-connected friends."
In an interview with CTV, Green Party leader Elizabeth May said she thought Minister of Finance Bill Morneau was 'blinded' by his personal wealth."
Bloc Québécois Leader Yves-François Blanchet says he will try to trigger a fall election if the prime minister, his chief of staff and his finance minister don't resign.
"The party is also asking Elections Canada to consider what would be necessary to run an election in a pandemic and is asking House Speaker Anthony Rota to make arrangements for a vote of all 338 MPs on or before Sept. 21," according to the Globe and Mail.
Current party standings in the House of Commons have the Liberal Party with 156 seats, the Conservative Party of Canada with 121 seats, the Bloc Quebecois with 32 seats, New Democratic Party with 24 seats, and the Green Party with 3 seats. Independents have 2 seats and there are no seats vacant.
Because of the political implications, the intricacies of the story are being covered globally.
Al Jazeera says Widening charity scandal engulfs Canada's Justin Trudeau, saying "Testimony by a Canadian prime minister before a parliamentary committee is very unusual and last happened in 2006."
"Misplaced lack of trust in the state is at the heart of Canada's WE Charity scandal," opined David Moscrop, a Social Sciences and Humanities Research Council postdoctoral fellow in the Department of Communication at the University of Ottawa, in the Washington Post.
Justin Trudeau tells MPs he did not intervene to award contract to charity, reports the Guardian.
The BBC helpfully offers its readers a piece called WE Charity Scandal—A simple guide to the new crisis for Trudeau.
Yet, here at home, Imagine Canada, the self-described "umbrella organization for the charitable sector," took almost a month after the story broke before it issued its Statement from Imagine Canada on the Canada Student Service Grant/WE Charity controversy saying on July 21, 2020, "what worries us most is that a story about one charity, its conduct, organizational structure, and relationship with politicians threatens to overshadow the incredibly hard work being done in communities under increasingly difficult circumstances."
"I don't know why Imagine Canada would wait a month to make a statement," said Alofs. "However, facts do matter and everyone involved deserves due process."
Three days later on July 24st, Imagine Canada had to issue another statement, partly to explain why it took so long to respond, and partly to clarify its own relationship with the WE Charity.
CEO Bruce MacDonald disclosed the WE Charity had been a Sector Champion sponsor of Imagine Canada, and that Imagine Canada had been receiving $5000 a year from WE since 2015. He added that WE had not received accreditation from the Imagine Canada, considered, by some, to be the most rigorous standards program in the sector.
In 2019, Imagine Canada earned about $830,000 in fees from approximately 300 Standards Program participants representing about 21% of its revenue of $3,939,000.
Janet Yale, former CEO of Arthritis Society—Canada, and chair of the Broadcasting & Telecommunications Legislative Review considers whether charities should be changing anything about how they operate moving forward.
"To be successful," she says, "charitable organizations must build and maintain public trust by adhering to the highest standards of transparency and accountability … includ[ing] adopting best practices in governance … promoting financial transparency and fostering a workplace culture of respect, diversity and inclusion. It is critical that charities have a clear set of values and that cultural alignment is visibly demonstrated by the leadership team …"
"I believe the WE Charity fiasco is damaging the reputation of the entire charitable sector at a time of maximum societal need due to COVID-19," says Alofs. "We need to get the facts of the WE Charity structure, assets, liabilities, HR decisions and governance out ASAP. The prime minister needs to be open and transparent on all involvement, decision making, mistakes made, and lessons learned.
"In my view, the two founders of WE should step down immediately and the board should take over. WE Charity is a ship that appears to have already sunk, and it doesn't make any sense to spend money trying to salvage a shipwreck. Learn, admit mistakes, and move on to address huge societal needs during and post COVID."
Further Reading
A Week of We. Now What? (July 6, 2020)