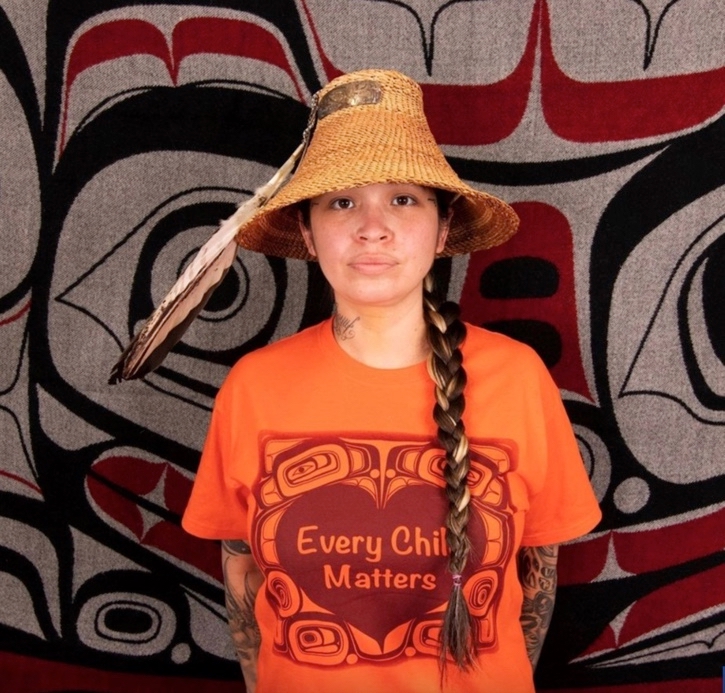 (September 28, 2021) Eyebrows were raised when the Hudson's Bay Company started selling orange shirts reading Every Child Matters in advance of September 30, Orange Shirt Day, the National Day for Truth and Reconciliation. Orange Shirt Day, the tradition of wearing an orange shirt on September 30 grew out of the St. Joseph Mission Indian Residential School Commemoration Project and Reunion events in 2013.  In 2015, the Truth and Reconciliation commission recommended that September 30 be declared a national holiday, for Canadians to reflect on the brutal treatment of Indigenous peoples in Canada. 
Orange Shirt Day reminds us of children who were separated from their parents and forced to attend residential school. Over 1,300, graves have been found at only four of Canada's 139 residential schools, and it is agreed that this is the very tip of the iceberg.
Dani Lanouette, an Anishinaabe woman from Neyaashiinigmiing and Algonquins of Barriere Lake told the CBC, "To see a company that has a very colonial history — a history of colonial violence within so-called Canada — to see that they were now selling orange shirts actually made me nauseous. It was so gross to me."
Like the Dutch East India Company and the British East India Company, the Hudson's Bay Company was a central tool of colonization, even acting as a 'de facto government' in parts of Canada before 1867. The networks the trading company developed provided basic infrastructure for colonizers throughout the country. As they expanded, they spread diseases like smallpox throughout Indigenous populations, in some cases destroying entire communities and cultures. In 1763, General Sir Jeffrey Amherst and a colonel discussed the possibility of deliberately infecting Indigenous populations as a method of control- using the iconic striped 'Hudson's Bay Blankets' as the vehicle of infection.
These distinctively striped blankets are still sold, for hundreds of dollars apiece at HBC stores today- presumably in the same department as the orange shirts. HBC says they made and sold the shirts in partnership with the Orange Shirt Society, a West Coast non-profit that works to educate Canadians about the horrors of residential schooling. But is it necessary for the Hudson's Bay Company to bribe itself with profit to do the right thing? As Dani Lanouette remarked, "I think they should actually just be giving reparations without needing to sell anything or … rely on consumers to make that donation for them through purchasing a shirt."
A list of Indigenous artists and activists who are making and selling orange shirts can be found here.
Related reading
No more Mr. Nice Guy: International response to unmarked graves of Indigenous children June 28, 2021
Commemorating National Indigenous Peoples' Day: Reflecting on the work of four stunning Indigenous artists June 21, 2021
'Emotional tax': the extra stressors that Indigenous people experience in the workplace March 22, 2021
Indigenous language: More than words July 20, 2020