(June 21, 2021) When we talked about how we wanted to commemorate National Indigenous Peoples' Day, our thoughts went to Indigenous artists. As a rule, we think when you want to take stock or figure out how you feel, it's good to check with the artists. They have the gifts to watch, wait, interpret, and show. We dug deep into the work of Indigenous artists and let the contemporary and multidisciplinary work of four remarkable women–Rebecca Belmore, Christi Belcourt, Caroline Monnet and Nadia Myre–wash over us. Every day, they are creating new work, amplifying voices, providing a path we can choose to see and to take. Every day, we want to express our gratitude for this gift. And today, we encourage you to visit their virtual galleries. You can emerge transformed and, we hope, ready to work for the transformation of our country.
Rebecca Belmore

The Art Gallery of Ontario called Rebecca Belmore "one of the most important contemporary artists working along the border of art and politics today. She is an Anishinaabe woman from the Lac Seul First Nation in northern Ontario, and her installation, Facing the Monumental, was featured at the AGO in 2018. "What Facing the Monumental does, though, and powerfully, is resituate Belmore less in the visceral and more broadly in the poetic, tracing the long arc of a career that's as often oblique and evocative as it has been frank, visceral and intense," said the Toronto Star.
An internationally recognized multidisciplinary artist, Belmore has been awarded the Gershon Iskowitz Prize (2016), the Governor General's Award in Visual and Media Arts (2013), the Hnatyshyn Visual Arts Award (2009), and the Jack and Doris Shadbolt Foundation's VIVA Award (2004). She's received honourary doctorates from NSCAD University (2019), Emily Carr University of Art + Design (2018), and OCAD University (2005).
Christi Belcourt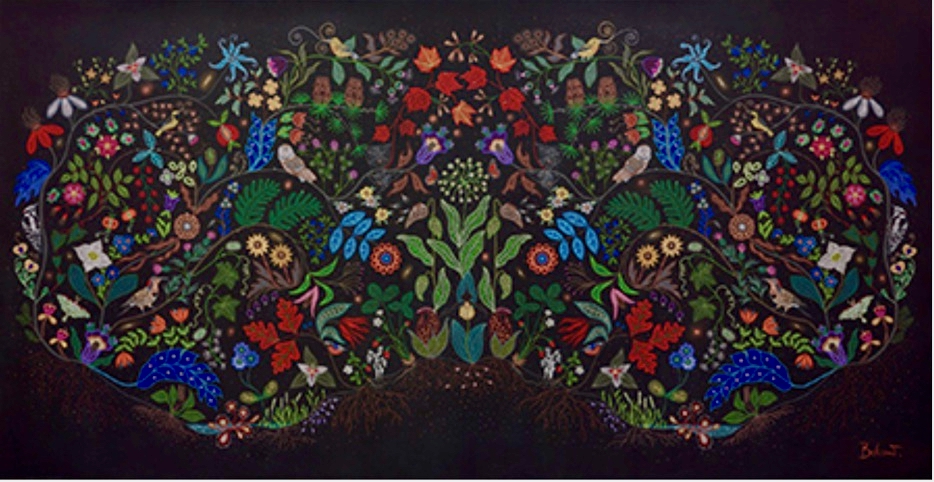 Christi Belcourt is a Michif (Métis) visual artist. In addition to her paintings, she is also known as a community-based artist, environmentalist and advocate for the lands, waters, and Indigenous peoples. She is currently a lead organizer for the Onaman Collective which focuses on resurgence of language and land-based practices.
Water Song, part of the permanent collection at National Gallery of Canada, was used by the Italian fashion house Valentino as inspiration in its 2016 spring collection.  When the people at Valentino first contacted her, Belcourt thought it was spam. Eventually they connected and she examined their environmental and cultural record before agreeing to be part of the project. 
Belcourt was named the Aboriginal Arts Laureate by the Ontario Arts Council in 2015. In 2016 she won a Governor General's Innovation Award and was named the winner of the 2016 Premier's Awards in the Arts.  Author of Medicines To Help Us (Gabriel Dumont Institute, 2007) and Beadwork (Ningwakwe Learning Press, 2010), Belcourt's work is found within the permanent collections of the National Gallery of Canada, the Art Gallery of Ontario, Gabriel Dumont Institute, the Indian and Inuit Art Collection, Parliament Hill, the Thunder Bay Art Gallery and Canadian Museum of Civilization, First People's Hall.
Caroline Monnet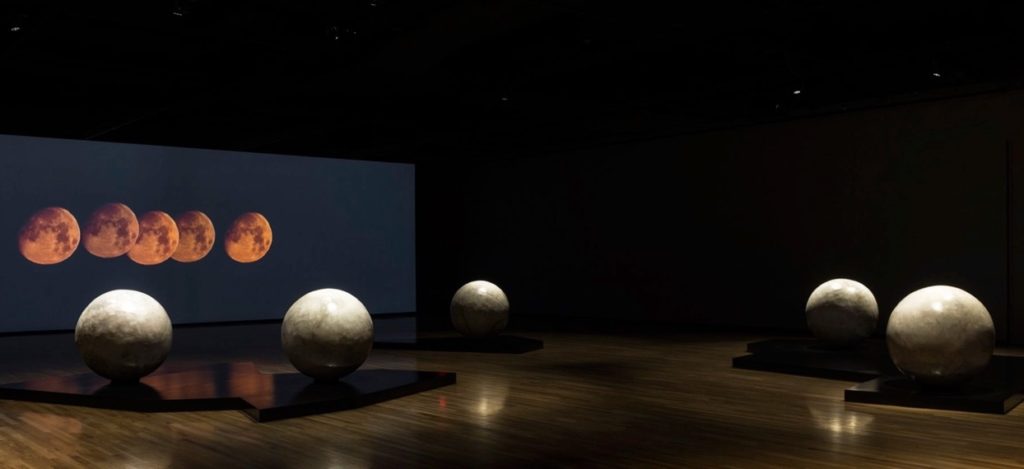 Caroline Monnet is an Algonquin-French multidisciplinary artist from Outaouais, Quebec.
"Monnet's practice is rooted in questions of identity and the complexities of intercultural communication. Her themes debunk preconceptions and stereotypes related to Indigenous peoples, featuring positive representations within a contemporary context, and building bridges between communities," says the National Gallery of Canada.
"… Proximal I-V, a set of five concrete spheres set atop glossy black plinths … and the spheres atop them refer to the standing stones of the Neolithic people of north-western France and the earthen mounds of the Great Lakes."
She has been awarded the 2021 Hopper Prize, 2020 Pierre-Ayot award, the 2020 Sobey Art Award, and the REVEAL Indigenous Art Award.
Nadia Myre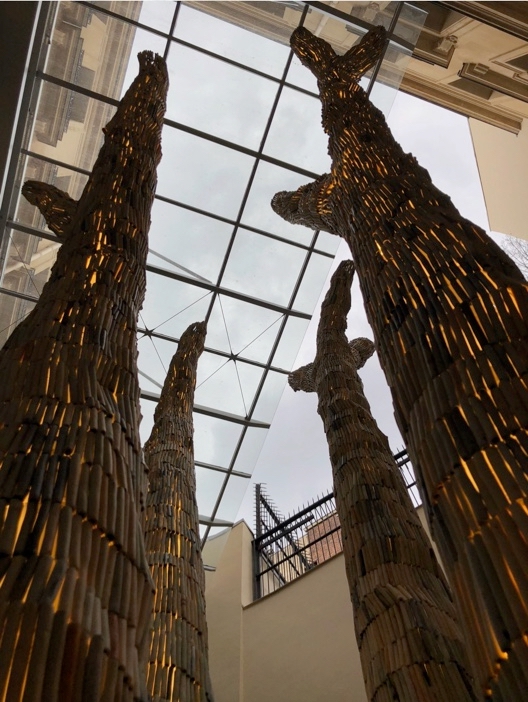 Nadia Myre is a contemporary visual artist from Quebec and an Algonquin member of the Kitigan Zibi Anishinaabeg First Nation, who lives and works in Montreal.
Her illuminated public sculpture, Tree of Shifting Forms, constructed from traditional clay tobacco smoking pipes, stands at the new Canadian Embassy in Paris opened in 2018.
Myre, the Canada Research Chair in Indigenous Arts Practice at Concordia, is establishing the Kìnawind Lab in the Department of Studio Arts. "It's a research-creation space with the purpose of creating, understanding, and disseminating contemporary Indigenous art. An Algonquinized spelling of the Anishinaabemowin word Giinawind, Kìnawind implies an inclusive 'us' — a grouping of oneself with one's own community as well as with those outside," Myre explains. "Thus, the Kìnawind lab is rooted in the preservation and interrogation of ancestral knowledge and practices while also being critically invested in transcultural objects and relationships, including shifts in practice, since contact."
Myre is a recipient of numerous awards including Compagne des arts et des lettres du Québec (2019), Banff Centre for Arts Walter Phillips Gallery Indigenous Commission Award (2016), Sobey Art Award (2014), Pratt & Whitney Canada's 'Les Elles de l'art' for the Conseil des arts de Montréal (2011), Quebec Arts Council's Prix à la création artistique pour la region des Laurentides (2009), and a Fellowship from the Eiteljorg Museum (2003).
Related reading
Canada's first Indigenous hospice gets glimmer of hope at Six Nations of the Grand River May 4, 2021
Report on the death of Colten Boushie further stains RCMP April 7, 2021
'Emotional tax': the extra stressors that Indigenous people experience in the workplace March 22, 2021
How to be a kid in a country that can't tell you the number of children dying in care November 17, 2020
Indigenous language: More than words July 20, 2020